Standard Chartered's CEO Boosts Direct Control in Overhaul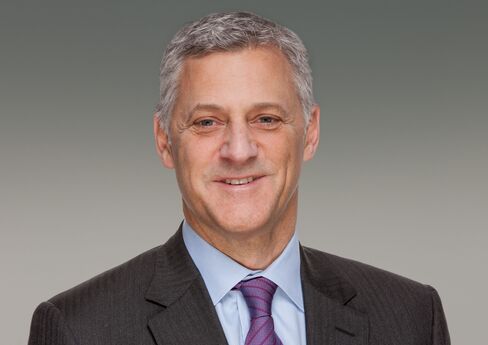 Standard Chartered Plc Chief Executive Officer Bill Winters appointed a new management team reporting directly to him, and took over some of his deputy's main responsibilities, as he seeks to accelerate cost cuts.
The 13-member group will develop a plan by year-end to improve performance, the bank said Sunday. Winters will assume responsibility for all three of the firm's client businesses from deputy CEO Mike Rees on Oct. 1, when the new team is formalized.
"The group needs to kick-start performance, reduce its cost base and bureaucracy, improve accountability and speed up decision making," Winters said in a statement. "I am working with a talented and experienced management team to create a bank that delivers strong returns and sustainable profitability."
Standard Chartered enlisted Winters, a former co-head of JPMorgan Chase & Co.'s investment bank, to take over after predecessor Peter Sands failed to reverse a drop in earnings and a slump in shares over the past two years. The London-based lender, which generates most of its earnings in Asia, is eliminating some 4,000 jobs to help save about $1.8 billion in costs through 2017.
'Eliminate Waste'
The management team will begin meeting immediately, though appointments won't be formalized until Oct. 1. The panel includes heads of the three client businesses, as well as regional and operational chiefs in a restructuring to simplify the firm's geographic and client divisions. The changes will gradually phase in at the company from October to be fully in place by January.
Winters, 53, pledged on his first day as CEO in June to "eliminate waste and excess." Standard Chartered will focus investment on areas "we are very good or can be very good" and divest others, he said. The firm had reported a 30 percent drop in pretax profit in 2014, hurt by legal bills. The stock's slide erased about a third of the bank's market value over the past two calendar years. It's up 5.6 percent this year.
Rees joined the bank in 1990, rising to become deputy CEO under Sands in April 2014. As the architect of Standard Chartered's corporate and investment bank, Rees weathered Sands' departure and a management exodus that included Viswanathan Shankar, the former head of Europe, the Middle East, Africa and the Americas, and Jaspal Bindra, the ex-Asia head. Chairman John Peace also is set to leave next year.
Rees was the best paid board member last year after being awarded $65 million in the five years after the financial crisis, according to company filings.
Management Team
In addition to Winters and Rees, these are the management team members: * Andy Halford, the chief financial officer; * Mark Dowie, interim CEO of corporate and institutional banking; * Anna Marrs, CEO of commercial and private banking; * Karen Fawcett, CEO of retail banking; * Tracy Clarke, head of compliance, human resources and the regional division for Europe and the Americas; * Ben Hung, regional CEO for greater China and North Asia; * Ajay Kanwal, regional head of ASEAN and South Asia; * Sunil Kaushal, regional CEO Africa and Middle East; * Doris Honold, chief operating officer; * David Fein, general counsel; * Michael Gorriz, chief information officer; * Pam Walkden, chief risk officer.
Before it's here, it's on the Bloomberg Terminal.
LEARN MORE