'Ant-Man' Flexes Giant Muscles With Weekend Box-Office Win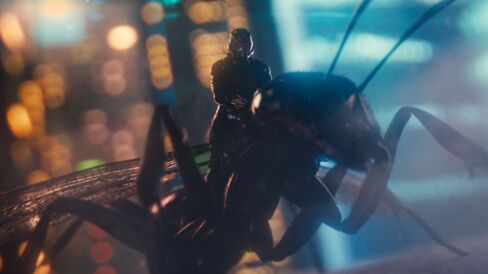 "Ant-Man," Marvel Studios' new film about a tiny superhero, made a big splash at the weekend box office, showing once again that comic-book characters can fill theaters.
Starring Paul Rudd, "Ant-Man" took in $57.2 million to place first in U.S. and Canadian theaters, Rentrak Corp. said Monday in an e-mailed statement. "Trainwreck," the Amy Schumer comedy from Comcast Corp.'s Universal Pictures, opened with $30.1 million, while Universal's animated "Minions" -- featuring goggle-wearing yellow creatures -- pulled in $49.3 million in its second week.
With "Ant-Man," Walt Disney Co. and its Marvel Studios are again mining their comic-book library for film characters. Last summer, they led the box office with "Guardians of the Galaxy," featuring an unknown bunch of Marvel misfits that included a tree and a raccoon. That film went on to gross $774.2 million worldwide, according to Box Office Mojo. This year's hero is a man who shrinks to the size of an ant.
Though "Ant-Man" is about a lesser-known character, "the reviews have been good, and word of mouth has been good, so it should have a good long life," Gitesh Pandya, editor at Boxofficeguru.com, said in an interview Sunday.
BoxOffice.com had forecast weekend sales of $64 million and $165 million for the film's entire run in North American theaters. Bad weather on the U.S. West Coast and in the Midwest may have hurt results, according to Dave Hollis, executive vice president of distribution at Disney.
Worldwide, "Ant-Man" generated $114 million, Disney said in a statement.
Lesser-Known Heroes
The debut of "Ant-Man" generated less revenue that films featuring better-known Marvel characters, such as "Thor" and "Captain America: The First Avenger," which led to sequels and fed into other pictures in Marvel's expanding cinematic universe.
Even so, "Ant-Man" shows that Marvel can go ahead with telling stories featuring lesser-known heroes like Dr. Strange, Captain Marvel, Black Panther and the Inhumans, Hollis said.
"Introducing new characters -- it's an integral part of keeping this universe fresh," Hollis said. "We see this as a huge success."
In "Ant-Man," the comic actor Rudd plays master thief Scott Lang, who struggles to adapt to the modern world after leaving prison. Lang meets Dr. Hank Pym, played by Michael Douglas, who has invented a suit that gives the wearer great strength and the ability to shrink. To stop the technology from falling into the wrong hands, they must pull off a heist.
With snarky one-liners, the film is a less-than-serious take on the usual save-the-plant superhero movie.
'Best Stuff'
"When it's on its game, 'Ant-Man' does some of the best stuff ever in a Marvel movie," Brian Truitt wrote for USA Today. The film scored 76 percent positive reviews, according to aggregator Rottentomatoes.com.
A comparatively modest budget will boost the profit prospects for "Ant-Man." The film cost $130 million to make, according to Box Office Mojo, less than the $170 million spent producing "Guardians of the Galaxy."
"Trainwreck," the other new release, landed in third place, meeting BoxOffice.com's forecast for weekend sales of $30 million. The film cost about $35 million to make, according to Universal.
The R-rated comedy features Schumer in a lead role for the first time. She also wrote the film, which was directed by Judd Apatow -- his fifth as a director.
Schumer plays Amy, who was brought up believing monogamy isn't realistic. Now a magazine writer, she fears commitment -- until she falls for a charming and successful sports doctor she's writing about named Aaron, played by Bill Hader.
James, Swinton
Critics loved "Trainwreck," giving it 90 percent positive reviews, according to Rottentomatoes.com. "Amy" also features wrestling star John Cena, NBA legend LeBron James and Oscar winner Tilda Swinton.
"It's gratifying to see Mr. Apatow, who in recent years has worked with the likes of Kristen Wiig and Lena Dunham, continue to put his show-business power to good by joining forces with a smart woman," Manohla Dargis wrote in the New York Times, calling the film "often extremely funny."
With "Trainwreck," "Minions," and "Jurassic World," which placed fifth, Universal had three films among the domestic top five for the first time since 2003.
Weekend sales for the top 10 films surged 37 percent to $178.7 million from a year earlier, Rentrak said. Sales for the year to date have increased 8.9 percent to $6.37 billion.
The following table has U.S. movie box-office figures provided by studios to Rentrak. The amounts are based on actual ticket sales for July 17 to July 19.
                     Rev.    Pct.             Avg./   Total
  Movie             (mln)    Chg.  Theaters  Theater   (mln) Wks
================================================================
 1 Ant-Man          $57.2     --    3,856  $14,841    $57.2    1
 2 Minions           49.3    -57    4,311   11,430    215.8    2
 3 Trainwreck        30.1     --    3,158    9,530     30.1    1
 4 Inside Out        11.5    -35    3,263    3,538    306.2    5
 5 Jurassic World    11.5    -37    3,117    3,675    611.2    6
 6 Terminator         5.4    -61    2,814    1,920     80.6    3
 7 Magic Mike XXL     4.4    -54    2,577    1,726     58.6    3
 8 Gallows            4.0    -59    2,720    1,475     18.0    2
 9 Bajrangi Bhaijaan  2.6     --      257   10,200      2.6    1
10 Ted 2              2.6    -54    1,582    1,645     77.4    4



Top 10 Films Grosses



   This Week     Year Ago      Pct.
     (mln)         (mln)       Chg.
===================================
    $178.7        $130.6       +37



Year-to-date Revenue



     2015          2014
      YTD           YTD        Pct.
     (mln)         (mln)       Chg.
===================================
    $6,370        $5,850       +8.9

Source: Rentrak Corp.
Before it's here, it's on the Bloomberg Terminal.
LEARN MORE