Omega's Einhorn Sees Another Two Years Left in U.S. Bull Market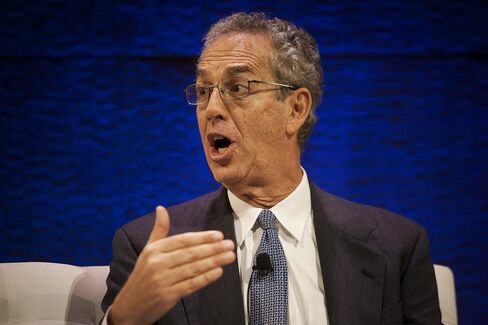 The six-year bull market for U.S. stocks has at least another two years left, Omega Advisors Inc.'s Steven Einhorn said Sunday.
"There's quite a while to go before this particular bull market ends," Einhorn, vice chairman of the New York-based hedge fund, which oversees more than $9 billion, said on the television program "Wall Street Week."
The Standard & Poor's 500 Index gained 2.4 percent for its best week since March as a Greek bailout agreement eased fears that the nation would exit from the euro and a rout in Chinese equities leveled off. Domestically, economic fundamentals remain strong and the pace of interest rate tightening by the Federal Reserve is likely to be gradual, boding well for equities, Einhorn said.
The former Goldman Sachs Group Inc. partner, who joined Leon Cooperman's Omega Advisors in 1999, said health care and technology stocks will outperform in a slower U.S. expansion, while recommending avoiding the materials and consumer staples industries.
"Wall Street Week" is produced by SkyBridge Media, an affiliate of SkyBridge Capital, the fund-of-funds business founded by Anthony Scaramucci. SkyBridge, which sometimes has other business relationships with the show's participants, advertisers and sponsors, pays Fox stations in key markets to broadcast the show and also streams it online every Sunday at 11 a.m. in New York.
Before it's here, it's on the Bloomberg Terminal.
LEARN MORE