Lockheed to Buy Sikorsky for About $8 Billion, Reuters Says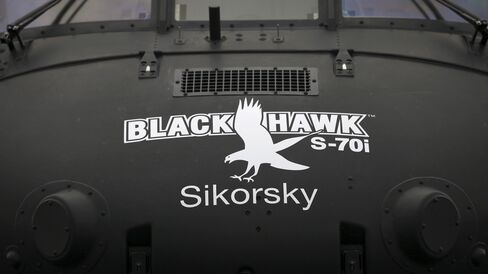 Lockheed Martin Corp. agreed to buy United Technologies Corp.'s Sikorsky unit for more than $8 billion, Reuters reported, citing a person familiar with the negotiations.
The two companies intend to announce the transaction on Monday, Reuters said, citing the person, who wasn't authorized to speak publicly.
With a deal, Lockheed would add the largest maker of military helicopters to a lineup that includes warplanes and missiles, as United Technologies opts for the sale over a possible spinoff to shareholders. The transaction would extend Lockheed's status as the world's largest defense contractor and widen its lead over Boeing Co. as No. 1 in the U.S.
John Moran, a spokesman for United Technologies, and Dan Nelson, a spokesman for Lockheed Martin, declined to comment.
A Sikorsky purchase would be the biggest aerospace acquisition since 2012, when United Technologies bought Goodrich Corp. for more than $16 billion, according to data compiled by Bloomberg.
The latest transaction would let United Technologies focus on divisions that make jet engines, air conditioners and elevators while exiting the very different business of supplying rotary-wing aircraft to the U.S. and foreign armed forces.
United Technologies shares have fallen about 3.7 percent this year, to $110.74 as of July 17. Lockheed's stock price has risen 4.8 percent to $201.18 in the same period.
Before it's here, it's on the Bloomberg Terminal.
LEARN MORE