Australia Looks Uglier From Afar If Rate Forecasts Are Any Guide
– All four of Australia's biggest lenders predict the central bank is done lowering interest rates. Some of their international peers are less convinced.
With fellow commodity exporter Canada cutting last week and New Zealand tipped to do likewise on Thursday, Nomura Holdings Inc., Morgan Stanley, Citigroup Inc. and Royal Bank of Canada all forecast conditions will be bad enough to warrant the Reserve Bank of Australia reducing the cash rate this year below an already unprecedented 2 percent.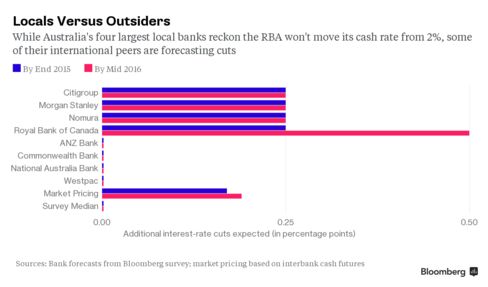 The RBA has signaled a reluctance to move again amid concern parts of the property market will overheat and doubts about the effectiveness of additional monetary stimulus. At the same time, the economy is still struggling to shift away from mining, the drop in commodity prices is weighing on export income and consumer confidence is wilting.
Resource prices "remain under pressure in broad terms and that flows through to a range of activity and income for the economy," Michael Turner, a fixed-income strategist at RBC, said by phone. "Spending across the economy, not just consumers but also business investment, will likely remain fairly disappointing."
RBC, which is forecasting a cut in the final three months of 2015, has predicted correctly all but one of this year's six RBA decisions. Morgan Stanley and Citigroup have each called four right, while Nomura has been 100 percent accurate.
Investors Divided
Investors betting on the outlook are split, with the swaps market indicating about a 50 percent chance that the cash rate will be reduced by the RBA's final meeting of the year on Dec. 1, data compiled by Bloomberg showed as of 5 p.m. on Monday in Sydney. They're pricing in a less than 20 percent chance of a cut in August.
"The way the economy is evolving says you've done enough in terms of providing interest-rate stimulus and I think you can run an argument that rate cuts may in fact now be counterproductive," said Michael Blythe, Sydney-based chief economist at Commonwealth Bank of Australia, the nation's largest lender. "I'm probably more positive on the growth outlook."
Skeptical Locals
CBA, Australia & New Zealand Banking Group Ltd., National Australia Bank Ltd. and Westpac Banking Corp. all see the cash rate unchanged until at least the end of September 2016. ANZ has correctly predicted three of the six decisions so far this year, while the other three have gotten four calls right. NAB reckons the central bank will start tightening in the final quarter of next year.
Since the last reduction in May, RBA Governor Glenn Stevens has chosen not to reiterate earlier statements that "further easing of policy may be appropriate" and has instead said that policy will be informed by upcoming economic and financial data.
While the jobless rate has fallen from this year's peak and a NAB gauge of business confidence has risen to the highest since September 2013, an index of consumer sentiment compiled by Westpac and the Melbourne institute shows household confidence dropping toward its lowest level in four years.
"The fall in July consumer confidence figures challenges the outlook for consumption required to spark business investment," Morgan Stanley analysts including Chris Nicol and Daniel Blake wrote in a note on July 15. Australia's transition from resources-led growth to a recovery centered on non-mining states in the country's east "remains at risk of stalling," according to the U.S. investment bank.
Overseas Influences
Policy makers are also likely to pay attention to more external factors such as U.S. monetary policy and the valuation of the currency.
The Aussie dollar has fallen about 10 percent this year and reached a six-year low on July 16. Should the Federal Reserve start lifting U.S. rates as it's expected to, that might take some pressure off the Australian dollar; conversely, a failure to do so could add to the need for further RBA easing.
At present the call for cuts remains a minority view. Of 33 economists surveyed by Bloomberg, just 12 reckon there will be additional easing this year.
Non-bank forecasters Capital Economics, Forecast Singapore and IHS Economics are among those with the most aggressive views, predicting a reduction in the third quarter of this year.
At the other end of the spectrum, economists from AMP Capital Investors and BT Financial Group are forecasting an increase in rates by the middle of 2016. And among the international banks, some such as Barclays Plc, JPMorgan Chase & Co. and UBS Group AG agree with the major local lenders that the RBA will stand pat.
"It is very unlikely that the Board will decide to cut rates in August," Westpac Chief Economist Bill Evans wrote in a note on Wednesday. "Despite current market expectations we would also put a limited chance of a move in November. We are comfortable to retain the view that rates will remain on hold for the remainder of this year and throughout 2016."
Before it's here, it's on the Bloomberg Terminal.
LEARN MORE