Weed Entrepreneurs Woo Women in Bid to End the Ganja Gender Gap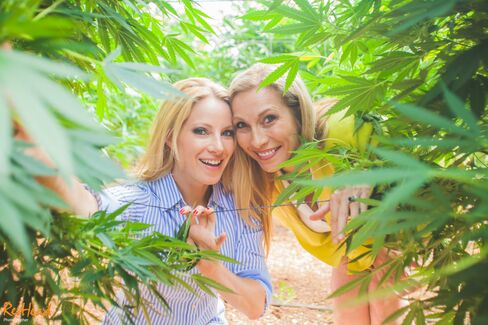 When Jazmin Hupp was searching for a container for her marijuana at the Cannabis Cup trade show in Denver, all she could find were boring, utilitarian glass jars.
So she asked a vendor at one of the booths if he had anything more elegant. He offered to make her a jar in pink.
Her immediate conclusion: "You guys need some help."
Hupp's experience may shed some light on why women account for only about a third of heavy and moderate cannabis users, even as they make up about half of occasional consumers, according to the Brightfield Group, a market-research firm. Women like Hupp say that's partly because current pot purveyors aren't offering the products they want and are marketing in ways that annoy them.
She's now among a group of entrepreneurs seeking to close the ganja gender gap, which represents a huge sales opportunity in an industry that researcher ArcView projects will grow more than sevenfold to $21 billion in the next five years.
Winning over women will require more than just churning out pink bongs. Women use marijuana differently, often preferring alternatives to lighting up joints. Health foods like cannabis-infused juices and raw salads are becoming increasingly popular, as are creams and salves containing the drug. For women who still want to inhale their pot, vaporizers have become the go-to method.
"It's seen as being more healthy, but it's also fashionable," said Cheryl Shuman, founder of the Beverly Hills Cannabis Club, a marijuana dispensary and social club. "Vaporizers are almost becoming a fashion accessory."
Diamond Vaporizers
Shuman's company targets the upper crust of stoners, those willing to shell out thousands of dollars for a gold vaporizer encrusted with diamonds. After a career in marketing for Hollywood celebrities, she entered the cannabis business in 1996, when medical marijuana became legal in California. She draws inspiration from brands like Gucci and Tiffany & Co. in deciding on what products to carry.
Women also tend to need less of the psychoactive component in cannabis -- tetrahydrocannabinol -- than men to get high. Many strains are now developed to be low in THC but high in cannabidiol, a non-psychoactive component known for its medicinal effects.
Shuman counts many of these strains, which bear names like "CannaSutra" and "Seductress," among her favorites for her own personal use. Some cultivators also have found success with even narrower groups. Shuman said "Mom Releaf" has grown popular among women looking to unwind after caring for their kids all day.
'Stiletto Stoners'
Hilary Dulany, director of operations for Lansing, Michigan-based AccuVape, sells slim personal vaporizers, promising "stiletto stoners a new option." She said she realized when she entered the industry in 2008 -- after Michigan voters legalized medical marijuana -- that women's needs weren't being met.
"Our products aren't designed in a female fashion, but they function in a way that women want them to," Dulany said at a marijuana trade show in New York, which legalized medical pot in July 2014.
Dulany's company touts its vaporizers as slimmer and lighter than the competition's, emphasizing that the palm-sized products can easily slip into a purse or the back pocket of a pair of skinny jeans. But the company doesn't only go after female consumers. It promises products that carry "the cool factor of James Dean" and uses male and female models in its fashion magazine-style marketing photos.
Marijuana Legalization
A total of 23 states, the District of Columbia and Guam allow medical use of marijuana, according to the National Conference of State Legislatures. Legal recreational sales have begun in Colorado and Washington, and voters have approved similar programs in Oregon, Alaska and the District of Columbia.
Using marijuana remains illegal under federal law, and the government considers it a dangerous drug with a high potential for abuse and no currently accepted medical use. Despite those obstacles, the nation's legal marijuana industry was worth $2.7 billion in 2014, according to ArcView.
But even as the industry has grown, the advertising and marketing tactics of many legal pot businesses haven't evolved from its underground days. Some trade-show vendors use scantily attired "booth babes" to lure attendees, and cultivators give strains vulgar or expletive-laced names that aren't particularly enticing to female consumers.
"Some of the guys still don't get it," Shuman said. "Even in a lot of cannabis magazines, they're still catering to the naughty nurse, bong-between-the-legs audience."
Hupp, who co-founded Women Grow, a networking group for female marijuana entrepreneurs, said she confronts companies that she sees using bikini-clad models to sell their wares. At least at trade shows, companies seem willing to listen.
"Occasionally, we'll resort to public shaming," Hupp said. "The girls usually get covered up or sent home."
For more, read this QuickTake: Up in Smoke
Before it's here, it's on the Bloomberg Terminal.
LEARN MORE