Top Moments of Midnight Madness From a Cemetery to 'Ode to Joy'
Midnight Madness game architect Mat Laibowitz shares some of his favorite moments from the Wall Street scavenger hunt
Midnight Madness, the all-night puzzle adventure and scavenger hunt, will next take place on Aug. 8 in New York.
It's hard to explain the multifaceted event, even if you've played. So Bloomberg asked game architect Mat Laibowitz, founder of the Los Angeles-based design and research firm Futuruption LLC, to share some of his favorite moments from years past. These are excerpts from his e-mailed reply.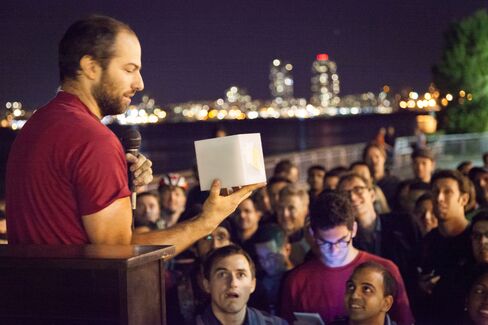 2013: At a cemetery in Greenwich Village, references to songs by the rock band Queen were posted on tombstones. When the players knocked on the tombstones in the rhythm of the songs, a projector came to life and provided the next riddle.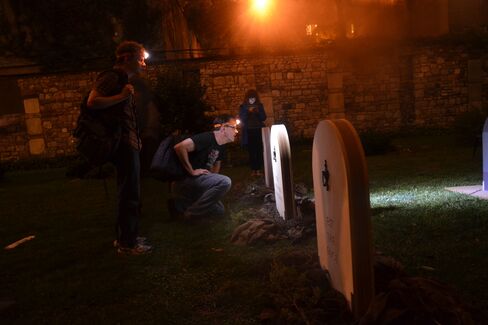 "The cemetery was a hidden gem," Laibowitz wrote. "It was lit by a fire that the caretakers kept going and they spent the night just hanging out with the players."
2012: Laser mini-golf: "The game worked and looked great and the environment at 5 Beekman (St.) as the sun was coming up was amazing.''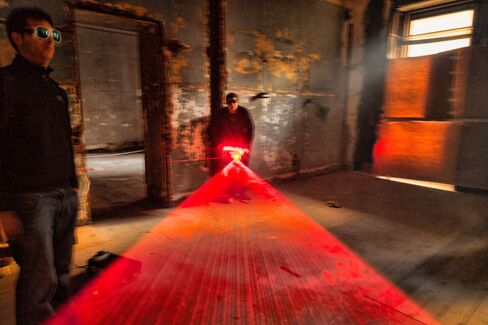 2006: "We added a system where players could earn hints and other game features by performing or finding original things in the city," Laibowitz wrote. "That gave everyone something to do, whether you wanted to solve puzzles or go scavenging/performing, you could do it."
2005: Players had to assemble "MacGyver-style" a device that allowed them to trace connections in a rat's nest of wires under an overpass, causing "an amazing glowing moment."
2004: "We tried to create something striking by using more original artwork and sculptural components," Laibowitz wrote. "Players went back to all the locations to try to get pieces of the puzzles as souvenirs."
2003: The best moment found teams in a playground, climbing on the equipment, trying to play Beethoven's "Ode to Joy" after having walked across the Manhattan Bridge.
Before it's here, it's on the Bloomberg Terminal.
LEARN MORE