Tensions Flare at Samsung C&T's Packed Meeting as Vote Looms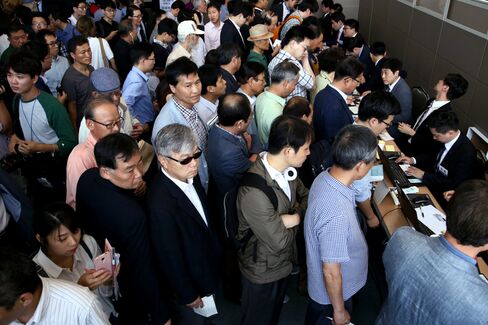 Investors gathering to vote in one of South Korea's biggest proxy fights have had to battle through crowds and protesters to make it to the venue, where all 600 seats were taken before the event even began.
That forced some to stand or try to find a space in an overflow area set up for 400 people on another floor at the aT Center in Seoul. On the agenda: Samsung C&T Corp. shareholders will vote on a takeover offer from affiliate Cheil Industries Inc., the de facto holding company of South Korea's richest family and biggest conglomerate.
Friday's vote pits the Lee family that controls Samsung Group versus opponents led by billionaire activist investor Paul Elliott Singer, who say the all-stock merger undervalues C&T. The meeting has drawn out those keen to defend Korea Inc. against outsiders and people challenging the power of the dynasties that run the nation's family-run conglomerates, known locally as the chaebol.
"This is an absolutely unfair proposal and they are trying to force shareholders to agree," said lawyer Choi Young Ik, who is attending on behalf of Singer's Elliott Associates LP. "We urge shareholders to make the right decision regarding the proposal."
One man in a white Korean traditional outfit shouted at Samsung C&T Chief Executive Officer Choi Chi Hun as he entered the venue, then charged at him before the man was repelled by the CEO's entourage.
At the shareholder's meeting, Ha Ki Chul, who owns 760 shares, said that while he is backing the merger for the good of the country, he's unhappy with how Cheil, the owner of the Everland theme park, has gone about pushing for the deal. He even invoked the memory of the chaebol's late founder and father to ailing Chairman Lee Kun Hee.
"I am very disappointed in the way this merger has been proposed," said Ha. "Lee Byung Chull is buried near Everland and I think he will wake up from the dead if he finds out what is happening with Samsung."
Before it's here, it's on the Bloomberg Terminal.
LEARN MORE