Merkel Faces Growing Greek Aid Revolt in Parliament Vote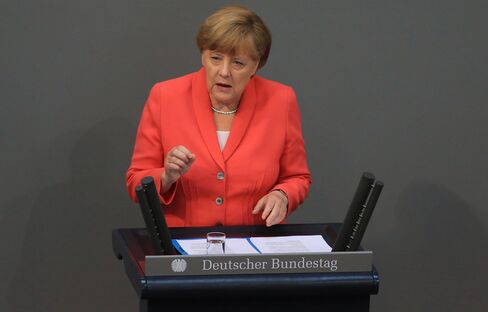 German lawmakers are having their say on Greece's next bailout after European Central Bank President Mario Draghi said he views the nation's place in the euro as safe.
As Europe tries to line up a three-year aid package worth as much as 86 billion euros ($94 billion), growing dissent in Chancellor Angela Merkel's party bloc makes the lower-house vote on Friday the latest test of her struggle to persuade Germans that Greece is still worth helping.
While Merkel's majority in parliament suggests that passage is assured, she may face the biggest party revolt yet as she seeks approval to start bailout talks and for a bridge loan to Greece. With the European project under threat, the continent's most powerful leader is putting her prestige on the line to hold the currency union together.
"The systemic importance of Greece for the entire euro zone hasn't been demonstrated," Christian von Stetten, a member of Merkel's Christian Democratic Union, said Thursday. "There can only be one vote tomorrow, and that is no."
German lawmakers are interrupting their summer recess to return to Berlin for a three-hour floor debate that began at 10 a.m. Finland's parliament gave its approval Thursday.
In a closed-door test poll after an appeal for support by Merkel, 48 members of her 310-strong caucus said they would break ranks and vote against the government line, a party official said. That compares with 29 who dissented in February on a vote to extend Greece's second bailout.
Schaeuble's Doubts
With the International Monetary Fund urging a debt writedown for Greece that Germany says is impossible under euro rules, Draghi stepped in with an attempt to ease tension. Months of standoffs over aid and austerity between Prime Minister Alexis Tsipras and creditors have led to deposit flight and capital controls, pushing Greece to the brink.
"We always acted on the assumption that Greece will remain a member of the euro area," Draghi told reporters in Frankfurt on Thursday after ECB policy makers granted Greek lenders more emergency liquidity. "There was never a question."
The Greek parliament's vote early Thursday to enact reforms and a pledge by its creditors to provide bridge financing mean that broke the negative spiral, he said.
That signaled a rebuff to German Finance Minister Wolfgang Schaeuble, who said hours earlier that Greece might do better temporarily outside the euro area and questioned whether the bailout talks would succeed. His comments on the eve of the parliamentary vote mirrored ambivalence among German policy makers about aiding Greece even as Merkel lobbied her caucus to back the proposed aid package.
German Public
Germans are split on whether lawmakers should approve the bailout package, with 46 percent in favor and 49 percent against, according to a poll for ARD television. The July 13-15 Infratest poll of 1,029 people has a margin of error of plus or minus 3.1 percentage points.
Merkel's coalition controls 504 of 631 lower-house seats and can count on partial support from the opposition Greens. Even Schaeuble said in a radio interview that he backs renewed talks with Greece, though "we don't know what the outcome of the negotiations will be."
Euro-area finance ministers authorized a 7 billion-euro bridge loan to Greece, according to Irish Prime Minister Enda Kenny. The financing deal is expected to be announced Friday after national parliaments vote on the aid accord.
Short-term financing is needed so that Greece can make a 3.5 billion-euro payment due to the ECB on Monday, and keep the country afloat during talks on the proposed three-year bailout. That aid would come from the euro-area's permanent firewall fund, the European Stability Mechanism.
Before it's here, it's on the Bloomberg Terminal.
LEARN MORE