Ferrari Has An Air-Bag Problem: Leather Skins Glued on Wrong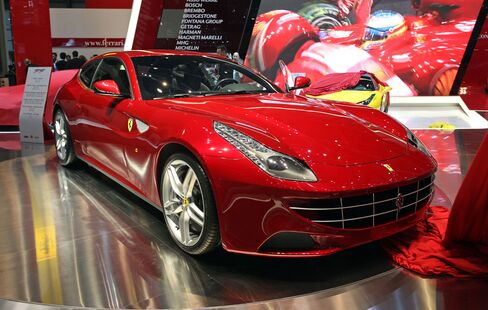 Luxury car maker Ferrari SpA is recalling eight new models costing from $200,000 to more than $1.4 million to fix driver-side air bags supplied by Takata Corp. that were installed at an improper angle.
The air bags were discovered when Ferrari was doing tests on a 458 Italia's steering column, according to documents posted to the National Highway Traffic Safety Administration website Friday. The air bag deployed in a rotated orientation, Ferrari said, which could cause injury.
The Italian manufacturer, owned by Fiat Chrysler Automobiles NV, found that the leather skin covering the air-bag module had been improperly glued and the air-bag cushions had been installed at the wrong angle. The recall covers 814 vehicles made from December to April this year.
"The issue is a possible production defect in a component inside the air bags," Ferrari spokeswoman Krista Florin said in an e-mailed statement. "Ferrari has immediately issued a recall for those cars to have the air bags in question replaced with conforming devices."
The defect isn't the same as in the Takata air bags that have exploded and sent shrapnel toward drivers and passengers. That recall affects more than 34 million inflators worldwide and has been linked to at least seven fatalities.
No Injuries
No fatalities or injuries were reported in the documents Ferrari filed with the U.S. regulator. As required by law, Ferrari will replace the driver-side air bags free of charge. The recall is expected to begin July 30.
The defect affects 2,600 vehicles worldwide, Florin said. In the U.S., Ferrari has issued stop-sale orders to dealers, and none of the affected cars will be sold before they're fixed, she said.

Read this next:
The recall covers the 458 Italia, the 458 Spider, the 458 Speciale, the 458 Speciale A, the California T, the FF, the F12 Berlinetta and the LaFerrari. All the affected cars were manufactured between Dec. 19, 2014, and April 29, 2015.
Suggested list prices range from $202,000 for the California T to $1.42 million for the LeFerrari, according to Car and Driver website.
Fiat Chrysler Chief Executive Officer Sergio Marchionne said July 10 that an initial public offering for a spun off Ferrari SpA was "days away."
Before it's here, it's on the Bloomberg Terminal.
LEARN MORE