Consumer Prices in U.S. Rose in June, Paced by Higher Rents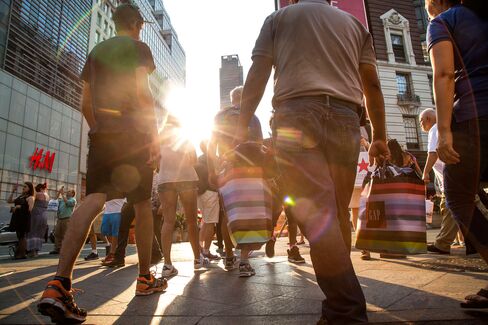 The cost of living in the U.S. rose in June for the fifth consecutive month, paced by increases in rents that are helping nudge inflation toward the Federal Reserve's goal.
The consumer-price index climbed 0.3 percent after rising 0.4 percent in May, a Labor Department report showed Friday in Washington. That matched the median forecast of 81 economists surveyed by Bloomberg. Costs over the past 12 months increased for the first time this year.
Rents climbed by the most in almost two years and will probably keep increasing as more Americans turn to living in apartments rather than owning a home. At the same time, modest global growth and a strong dollar is projected to prevent inflation from actually meeting the Fed's 2 percent target this year and probably next.
"Disinflationary pressures are ebbing fairly quickly," said Ryan Sweet, a senior economist at Moody's Analytics Inc. in West Chester, Pennsylvania, who was among those correctly projecting last month rise in CPI. For the Fed, the readings should "build their confidence that inflation is going to move toward their target over their medium term."
Prices rose 0.1 percent over the past 12 months, the first year-to-year gain since December, after being little changed in the year ended in May.
Survey Results
Economists' projections in the Bloomberg survey ranged from a 0.1 percent drop to a 0.4 percent advance.
Excluding food and fuel, the so-called core index climbed 0.2 percent in June after rising 0.1 percent the prior month. The index was up 1.8 percent from June 2014, after climbing 1.7 percent in the year through May.
About two-thirds of the increase in the core rate was caused by rising rent. Rents of primary residences climbed 0.4 percent, the most since August 2013. A category designed to track the rental value of owner-occupied homes also rose 0.4 percent, the most since October 2006.
Policy makers have said they'll need to be reasonably confident that overall inflation is heading toward their goal before raising the benchmark interest rate for the first time since 2006. The central bank's preferred price-growth gauge is the Commerce Department's personal consumption expenditures measure, which hasn't met the Fed's 2 percent goal since April 2012.
Yellen's View
Inflation in general probably will move in that direction "in the medium term," Fed Chair Janet Yellen said Wednesday in testimony before the House Financial Services Committee.
"Inflation has continued to run below our longer-run objective, but we believe transitory factors have played a major role," Yellen told lawmakers. "Energy prices appear to have stabilized recently."
In June, Fed officials projected inflation wouldn't reach their target until 2017 at the earliest.
The economic outlook will be bright enough for Fed officials to announce an interest-rate increase at their September meeting, according to the majority of economists surveyed by Bloomberg in July.
The CPI is the broadest of three price gauges from the Labor Department because it includes all goods and services. About 60 percent of the index covers prices consumers pay for services from medical visits to airline fares, movie tickets and rents.
The Labor Department's gauge of wholesale prices, which includes 75 percent of all U.S. goods and services, increased 0.4 percent in June from the prior month as fuel costs rose, data showed earlier this week. A separate report indicated the cost of imported goods fell 0.1 percent in June, marking the 11th negative reading in the past year.

Read this next:
Before it's here, it's on the Bloomberg Terminal.
LEARN MORE