Confused by the Euro? Then Watch German Bond Market for Clarity
Investors who were perplexed by the euro's resilience amid the crisis in Greece and its decline as a resolution appeared close should've been looking to the bond market for guidance.
Swings in the 19-nation currency versus the dollar have become more closely aligned in the past few months with the yield gap on 10-year U.S. and German debt. One measure of that correlation reached a 16-month high this week, data compiled by Bloomberg show.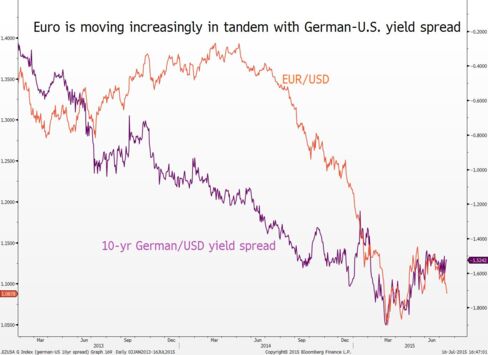 The Greek standoff supported the euro by driving a selloff of European debt and pushing the region's yields higher, luring international investors. Now the focus is shifting to diverging monetary policies. Federal Reserve Chair Janet Yellen reiterated this week that the U.S. rates may rise, while European Central Bank President Mario Draghi stepped up pledges to stimulate the region's economy with bond-buying.
"The love affair between euro-dollar and the 10-year eurozone-U.S. rate spread is astonishing," said Kit Juckes, a London-based global strategist at Societe Generale SA. "One of the things we feel here is Yellen maintains the course toward a 2015 rate hike. It looks more and more likely we'll see an even more protracted period of easy policy than we already have in Europe."
The euro has slumped 2.5 percent against the dollar this week to $1.0875, reaching the lowest since the end of May. That has traders eyeing the euro's March low of $1.0458, which was the weakest level since January 2003.
"It's going to be hard for those rate differentials to move enough to really drive euro-dollar into new territory, if we don't get some move upwards in U.S. yields as well," Juckes said. "I don't think the move to parity happens without a Fed rate hike."
At 2.35 percent, U.S. 10-year notes yield about 1.5 percentage points above their German counterparts. When the euro was at its weakest point in March, the gap was about 1.9 percentage points.
Before it's here, it's on the Bloomberg Terminal.
LEARN MORE