China Ends Mystery of Gold Hoard to Top Russia's Holdings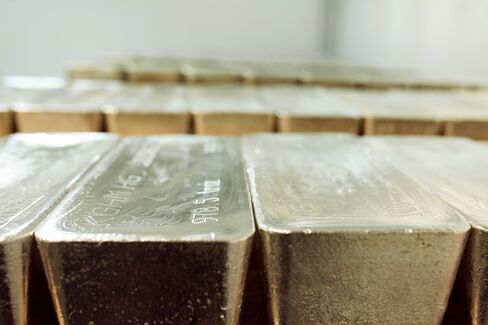 China ended six years of mystery over how much gold it's hoarding, revealing a 57 percent jump in reserves and overtaking Russia to become the country with the fifth-largest stash of the metal.
"The market has been speculating on the size of China's gold reserves for years and the central bank has always been reticent until now," Fu Peng, a portfolio manager at Lianzhan Global Macro Fund Management Co., said by phone from Beijing.
China boosted bullion assets to 53.31 million troy ounces, or about 1,658 metric tons, the People's Bank of China said in a statement Friday. That's up from 1,054 tons in 2009, when it last updated the figures. The U.S. has the biggest reserves at 8,133.5 tons, data from the World Gold Council show.
Gold prices were little changed in reaction as the gain was much less than some had reckoned. Bloomberg Intelligence this year estimated a possible tripling to 3,500 tons, based on domestic output, and China Gold Association and trade figures.
"People were expecting that they have bought a lot more," Mark O'Byrne, executive director of Dublin-based brokerage GoldCore Ltd., said by phone. "That's why we haven't seen much of a movement so far today. The big question is whether they now continue buying."
Greater Role
Gold remains a large part of many central banks' reserves, decades after they stopped using it to back paper money. Stockpiles of the metal help China to diversify its foreign-exchange holdings as the world's second-largest economy seeks to raise the international profile of its own currency. The disclosure on gold reserves also assists in that goal.
"China is still pushing for a greater role for its currency globally by having full transparency," Fu said.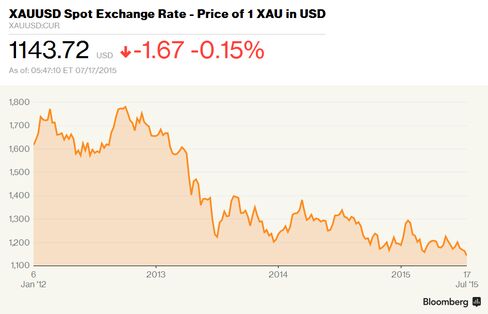 Nations have expanded gold holdings in the past few years, a reversal from two decades of selling since the late 1980s. Many central banks remain exposed to a small number of key reserve currencies and look to gold as a hedge against volatile currency movements, according to the World Gold Council.
They will probably buy 400 to 500 tons of the metal this year, it said in May. Russia more than tripled its hoard since 2005 and Kazakhstan raised its every month since October 2012.
Purchases of about 100 tons a year are little more than 2 percent of annual global demand, according to the council.
Gold for immediate delivery lost 0.8 percent to $1,136.66 an ounce by 2:41 p.m. in London, Bloomberg generic pricing shows. It's down 4 percent this year, near the lowest level since 2010, on speculation the U.S. Federal Reserve will raise interest rates.
When China last gave an update on its holdings, the country said it had bought 454 tons since 2003.
"They've added to their reserves for the same purpose as other banks," Carsten Fritsch, an analyst at Commerzbank AG, said by phone from Frankfurt. "I don't see why that trend will slow down. I think it will continue into the future at the same pace at least."
— With assistance by Jasmine Ng, and Feiwen Rong
Before it's here, it's on the Bloomberg Terminal.
LEARN MORE