China Has the World's 'Safest' Equity Market, HKEx CEO Says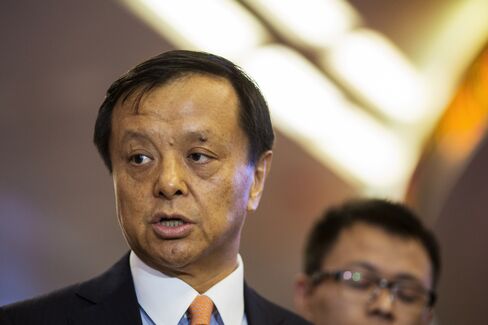 Hong Kong Exchanges & Clearing Ltd. Chief Executive officer Charles Li called China the world's "safest" stock market, seeking to allay investor concerns over government intervention and surging volatility.
The nation's market structure gives government-run entities such as exchanges, custodians and clearing houses direct control over the safeguarding of investor assets, trading and settlement, Li said in a blog post on HKEx's website. That differs from most international markets -- where brokerages play a more central role -- and helps regulators prevent misconduct, he said.
The reassurances from Li, who oversaw the November start of Hong Kong's exchange connect with Shanghai and is seeking to open a similar link with Shenzhen by year-end, follow a series of unprecedented steps by Chinese authorities to halt a $4 trillion tumble in mainland stocks. Concern over government meddling in Shanghai has helped fuel foreign outflows through the exchange link for nine straight days.
"I don't think many people will agree with him," said Alex Wong, a Hong Kong-based asset-management director at Ample Capital Ltd. "If you take into account the recent volatility, whenever you buy, you have to be very careful."
The Shanghai Composite Index has moved by at least 2 percent on a closing basis during all but five trading days over the past five weeks. The gauge's 30-day volatility climbed to the highest level since 1997 this month, and now exceeds every benchmark index worldwide except Greece's ASE Index.
Individual Investors
As the Shanghai Composite tumbled more than 30 percent from its June 12 peak, policy makers went to extreme lengths to prop up stocks. They banned large shareholders from selling stakes, ordered state-run institutions to buy equities, allowed the central bank to finance stock purchases and let more than half of companies on mainland exchanges halt trading.
China's market structure is organized to help protect the interests of retail investors, who dominate trading on mainland exchanges, Li said. The number of Chinese individuals who invest in stocks has grown to more than 90 million, exceeding membership in the ruling Communist Party.
The Chinese system does have drawbacks, Li said. The relatively small role for professional intermediaries means there's a lack of risk-management culture among the investing public. Regulatory restrictions on the pricing of initial public offerings lead to distortions in supply and demand, while valuations in the secondary market are influenced more by liquidity expectations than corporate fundamentals, he said.
Young Market
While China's requirement to keep investor assets in a central custodian makes it the world's safest market for protecting assets, it also deprives brokerages from resources that they could use to grow their businesses, Li said.
"China is a huge and yet still young market," he said. "It will go through some more growing pains and tough times. But there's no doubt that with patience and time, China's market is on its way to becoming the global centre of gravity in the Asian time zone."
The nation's push toward more integration with global markets won't be derailed by the volatility of the past few weeks, Li said. The market swings underscore the need to increase the role of institutional and foreign investors, he said.
"HKEx is trying to sound positive, because there is potential lack of confidence in the market structure," said Brett McGonegal, executive managing director at Reorient Group Ltd. in Hong Kong. "They are trying to ensure that people have faith and confidence in the system."
Before it's here, it's on the Bloomberg Terminal.
LEARN MORE