U.S. Navy Officer Shot in Tennessee Attack Dies From Wounds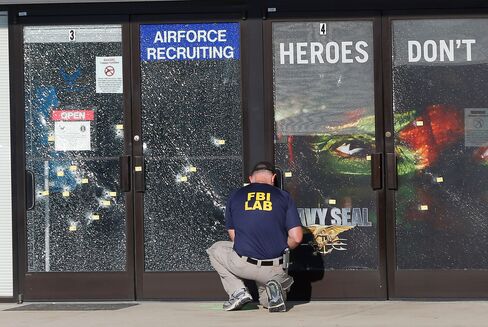 A U.S. Navy petty officer shot at a military support center in Chattanooga, Tennessee, on July 16 has died from his wounds, the government said.
The Navy was withholding the officer's name until 24 hours after next of kin was notified. The Washington Post identified the sailor as Randall Smith, 24, attributing the information to a step-grandmother in Ohio.
The death brings the total killed in the attack to five, including four U.S. Marines. The shooting suspect, Mohammod Youssuf Abdulazeez, who was born in Kuwait and became a naturalized U.S. citizen, was also killed.
The attack has escalated concern among law enforcement authorities over the risk of home-grown extremism. Stopping lone attackers inspired by international terrorist groups including Islamic State is a priority across the U.S. and other Western countries.
Federal authorities are investigating Abdulazeez's travel to Jordan and possibly other Middle East nations in recent years to see if he made contact with terrorist groups, a U.S. official said.
He made a number of trips to Jordan, including as recently as 2014, the official said. The FBI has been tracking scores of potential home-grown extremists but has yet to find anything about him in their files, said the official, who spoke on condition of anonymity to discuss an open investigation.
"We are exploring all travel that he has done and asking intelligence partners around the world if they have any information about his travel or his activities while overseas," Ed Reinhold, the FBI special agent in charge of the investigation, said at a news conference on Friday. He declined to say where Abdulazeez had traveled, or when.
'Cowardly Act'
So far, there's no indication that Abdulazeez was inspired by Islamic State, though the investigation is continuing, Reinhold said. The incident is being handled as a terrorism inquiry by the Federal Bureau of Investigation's joint terrorism task force along with other law enforcement agencies.
"We will not leave any stone unturned for the victims of this heinous and cowardly act," U.S. Attorney Bill Killian said at the news conference.
Authorities so far have uncovered about 70 leads, Reinhold said. It could take months of digging through Abdulazeez's mobile phone records, e-mail and online communications to determine whom he contacted.
Abdulazeez, 24, was carrying at least two long guns -- rifles or shotguns -- and one handgun, Reinhold said. He said some of the weapons were purchased legally, while others may not have been. Investigators are probing how Abdulazeez obtained the guns, Reinhold said.
Opening Fire
Abdulazeez appears to have been shot by Chattanooga police, Reinhold said.
The shootings took place just miles and about 30 minutes apart at a U.S. Navy Network Operations Support Center and an armed-forces recruiting center in Chattanooga.
Authorities said the first shooting occurred before 11 a.m. at a military recruiting center in a strip mall. No one was wounded in that attack. The gunman then drove in his Ford Mustang to the support center, where he opened fire.
Chattanooga police responded immediately to calls reporting a gunman on the loose, said the city's police chief, Fred Fletcher. Officers engaged the gunman quickly, and one was struck by gunfire, he said. The wounded officer, who's expected to survive, was rescued by colleagues under fire, Fletcher said.
The Marine Corps identified the dead Marines on Friday as Gunnery Sergeant Thomas Sullivan of Hampden, Massachusetts; Staff Sergeant David Wyatt of Burke, North Carolina; Sergeant Carson Holmquist of Polk, Wisconsin; and Lance Corporal Squire Wells of Cobb, Georgia.
Obama Remarks
President Barack Obama addressed the incident during an Oval Office appearance on July 16 after he was briefed by FBI Director James Comey.
"We take all shootings very seriously, but obviously when we have an attack on a U.S. military facility, we have to make sure we have all the information necessary to make an assessment of how this attack took place," Obama said.
Homeland Security Secretary Jeh Johnson raised security at some federal facilities as a cautionary measure after the shootings. White House Press Secretary Josh Earnest said on Twitter on Friday that the Defense Department was "considering similar steps."
U.S. officials have expressed increasing concern that Islamic State and other terror groups are inspiring home-grown extremists to carry out attacks. They're difficult to stop because the extremists aren't directed by the terror groups, U.S. officials say.
Before it's here, it's on the Bloomberg Terminal.
LEARN MORE