Buffett Gauge's Caution Signal for U.S. Stocks Disputed in Study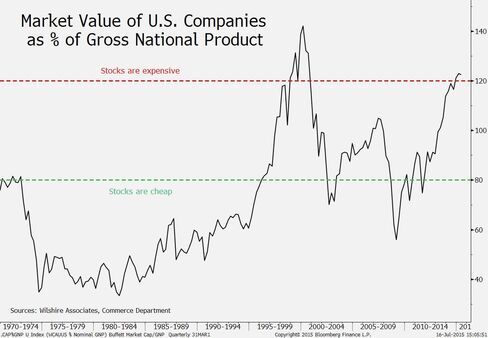 The value of Warren Buffett's favorite stock-market gauge has little use as an indicator of share-price declines, according to a new study.
The attached chart tracks the indicator: the market value of all U.S. companies as a percentage of gross national product before inflation, which Buffett mentioned in a 2001 article for Fortune magazine. The Wilshire 5000 Full Cap Price Index is used to represent market value, as it was in the study. GNP figures are compiled quarterly by the Commerce Department.
Stocks' capitalization exceeded 120 percent of GNP in each of the past three quarters, as it did when a bull market peaked in 1998-2000. The figure was studied as a harbinger of market losses by Sebastien Lleo, an associate professor at France's Neoma Business School, and William T. Ziemba, an alumni professor at the University of British Columbia.
"The level does not provide sufficient evidence to forecast most equity market downturns," Lleo and Ziemba wrote. The conclusion was drawn by analyzing 19 declines of 10 percent or more in the Standard & Poor's 500 Index between October 1970 and March 2015.
Buffett's indicator is more useful when the 120 percent threshold is replaced by one determined through a statistical analysis, they wrote. Their favored approach pointed to losses 11 times in the 45-year study period, and proved accurate on eight occasions.
The results dispel the theory "that absolute value matters" for the market value-to-GNP ratio, Lleo and Ziemba wrote. They published the data July 12 on the Social Science Research Network, an online repository.
Before it's here, it's on the Bloomberg Terminal.
LEARN MORE