Apartment Builders Back in Washington as Glut Seen Easing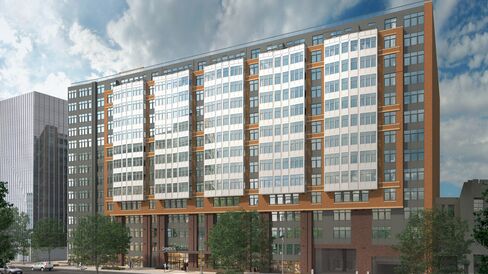 The Washington, D.C., apartment market, after years of overbuilding that created a glut of rentals, is getting a new round of development by some of the country's biggest real estate companies as employment improves.
Toll Brothers Inc.'s apartment division will more than double its stock in the area in the next three years. Camden Property Trust has 862 units under construction and is under contract to buy land for a 365-unit project. AvalonBay Communities Inc., the No. 2 publicly traded multifamily landlord, is raising its bet on an up-and-coming neighborhood where it acquired an existing building in 2012.
Tepid job gains and a spate of construction that created almost 20,000 units in the past two years made Washington one of the worst markets for U.S. landlords, forcing owners to grant tenants concessions such as months of free rent to keep new luxury apartments from going empty. Now companies are preparing to add more supply to accommodate rebounding employment.
"I wouldn't say you would want to build, say, back in 2014," said Ron Johnsey, chief executive officer of research firm Axiometrics Inc. "But what makes a difference in 2015 is that we're starting to see job growth come back."
The market -- including the District of Columbia, southern Maryland suburbs and parts of northern Virginia -- will get 11,319 new rental units by the end of the year, Axiometrics forecasts. In the District, where height restrictions limit new towers, luxury properties are being built as tall as possible in trendy neighborhoods such as NoMa, Capital Riverfront and the H Street corridor.
Builders stepped up work on apartments nationwide in June. Ground-breaking on multifamily buildings in the U.S. jumped 29.4 percent from May and 48.2 percent from a year earlier, according to Census Bureau data released Friday.
'Ideal Time'
Job growth in the D.C. area, hurt by the 2013 federal sequester, reached 1.8 percent in May, more than double the year-earlier rate, according to the Bureau of Labor Statistics. While a 1.4 percent decline in effective rents in 2013 -- and a gain of only 0.4 percent the following year -- may scare away smaller developers, public companies such as real estate investment trusts stand to benefit as pricing power recovers, Johnsey said.
"Particularly the REITs, they have access to capital," he said. "This is an ideal time, because we're soft, and if you've got the money, and you can do it, you can take advantage of the upturn coming."
Effective rents, what tenants pay after any landlord incentives, will climb 3.4 percent in 2016, compared with 2.9 percent across the U.S., Axiometrics estimates. The following year, D.C.-area rents will increase 4.5 percent, with 3.6 percent growth in 2018, according to the forecast.
Toll Brothers is targeting both millennials and empty-nesters with its projects, which are in select submarkets such as Capital Riverfront, where the homebuilder's luxury Parc Riverside opened in January.
The building, less than three blocks from Nationals Park, is leasing up faster than expected, with 74 percent of the 287 apartments spoken for, said Charles Elliot, managing director of Toll's Apartment Living division. The company has been raising rents at the remaining units, which range from $1,610 for a studio to $3,900 for a two-bedroom.
NoMa Projects
In NoMa, short for "north of Massachusetts Avenue," Horsham, Pennsylvania-based Toll is developing Union Place, with 525 rentals. The swiftly developing neighborhood has some of the best potential for significant returns, Elliot said.
Among other companies building in NoMa is Houston-based Camden, which plans a 2017 opening for a 14-story, 405-unit property. It's part of a project that delivered its first units in 2013, the year rents in the market slipped for the first time since at least 2005. Today, Camden sees the location, about a mile from the Capitol and around the corner from National Public Radio's new headquarters, as a winner.
"When we originally bought that site, most people would have considered it to be a little bit of a transition area, but I think all that's behind us now," said Keith Oden, the REIT's president.
Tax Break
AvalonBay's project in NoMa is the second phase of a development the Arlington, Virginia-based REIT acquired in 2013 with its partial purchase of Archstone Inc. The new building's 438 units, under the AVA brand marketed toward millennials, will be ready in 2017.
Chief Investment Officer Matt Birenbaum said the company was motivated less by NoMa's trendiness than by a city tax abatement for developing in the neighborhood that will amount to $7 million in savings.
"We would not have built it but for that," he said. "Or, let's just say that was definitely a material factor."
The biggest U.S. apartment REIT, Equity Residential, is preparing to start work on a 174-unit building in Georgetown stalled since 2012.
Marty McKenna, a spokesman, confirmed that the company is working on the project and declined to discuss other development plans. Equity Residential, based in Chicago, and AvalonBay were among companies that sold off some properties in the D.C. area during the glut.
Suburban Buildings
Other landlords, such as UDR Inc., are buying rather than building, wary of adding supply in neighborhoods where development has surged. The REIT last month agreed to purchase six communities with a combined 3,246 units owned by Home Properties Inc. The buildings are all in the suburbs, where there's less competition, and split between Class A and lower-end apartments.
"I don't think that we would start construction today, given how the market is," said Shelby Noble, senior director of investor relations for Highlands Ranch, Colorado-based UDR.
Companies now building luxury apartments say the market can handle the new supply, unlike in recent years, when deal sweeteners were needed to snare tenants who had their pick of shiny new buildings. The area's high median salaries and highly educated population are likely to help landlords fill the units and achieve rent growth.
"If you look at the percent of income it takes to live in a Class A apartment in Washington, D.C., it's fairly high, but I think also look at the demographic," said Elliot of Toll Brothers. "If you look at what they're willing to pay and where the demand is, the demand is definitely at the higher end."
Before it's here, it's on the Bloomberg Terminal.
LEARN MORE