Volkswagen Explores Return to Iran After Sanctions Lift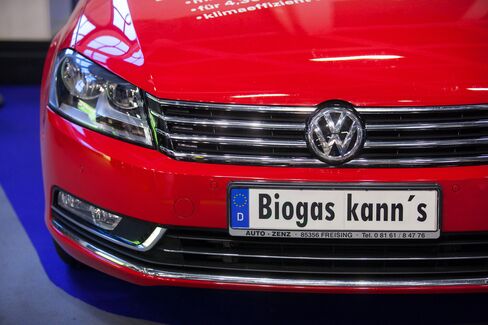 Volkswagen AG and Daimler AG are exploring a return to Iran after the Islamic Republic's nuclear accord with the West pointed to an easing of economic sanctions that restricted carmakers' business in the country.
"We're monitoring the current development and are leading first talks on a political level," Wolfsburg, Germany-based Volkswagen said in an e-mailed response to questions. "There are no decisions or resolutions yet though. Possible further steps will be determined by future developments." Daimler is currently doing some individual business transactions in the country, the Stuttgart, Germany-based maker of Mercedes-Benz cars said in an e-mail.
BMW AG said it's "monitoring the situation" in Iran and that it may enter the market in the "longer term."
German companies are eager to return to Iran, and Economy Minister Sigmar Gabriel is planning a visit on Sunday. If Germany's exports there return to the pre-sanction levels of a decade ago, it could mean as much as an additional 4.5 billion euros ($4.9 billion) in revenue for the country's companies, Deutsche Bank analysts said in a report Thursday.
French carmakers Renault SA and PSA Peugeot Citroen are set to be among the biggest gainers if Iran's auto market re-opens, because of their presence before sanctions were implemented.
400,000 Units
Peugeot, Europe's second-biggest carmaker, accounted for 29 percent of new vehicles delivered in Iran in 2014, according to IHS Automotive. The French carmaker plans to sell 1 million vehicles annually in Africa and the Middle East by 2025, of which at least 400,000 units would ship in Iran. It has been holding discussions with former manufacturing partner Iran Khodro for a joint venture that could sell and produce vehicles in the country.
Should sanctions be lifted, the market may grow about 10 percent in 2016 and 2017, with total sales averaging 1.7 million vehicles "in the longer term," IHS said.
German exports to Iran could surge to 10 billion euros in the mid-term from 2.4 billion euros last year, industry association BDI said on Tuesday.
For VW, Europe's largest automaker, selling cars in Iran would help it grow outside mature markets such as Europe and North America. The company revived small-scale assembly of cars in Nigeria earlier this month and has been considering manufacturing vehicles in southeast Asia.
Read this next:
Before it's here, it's on the Bloomberg Terminal.
LEARN MORE