South Korea's Prozac Moment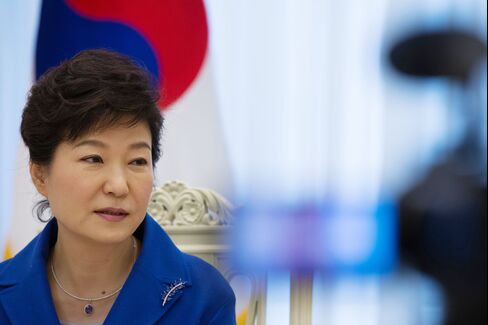 If countries have moods, South Korea may be in need of some Prozac.
This is a nation, one of Asia's great postwar growth stories, that's home to world-class technology, auto and shipping companies and an industrious and well-educated workforce. Yet, at the moment, South Korea's top officials are wallowing in economic gloom.
South Korean President Park Geun Hye recently announced that the Greek debt crisis would hurt the domestic economy for "some time." Finance Minister Choi Kyung Hwan on Thursday warned of falling domestic demand as well as other risks such as rising U.S. interest rates and cheap oil. Not to be outdone, the central bank has weighed in with forecasts of more pain linked to a domestic drought and potential risks from China's stocks crash.
There's no denying the $1.4 trillion economy has hit a rough patch. It may grow 2.8 percent this year, far below the average growth the economy enjoyed in the years before the 2009 global recession.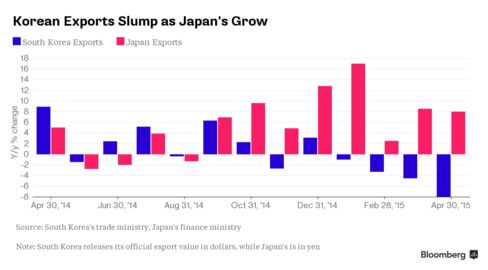 The population is aging, labor markets are rigid, innovation is lagging, corporate and household debt is rising and confidence has been hit hard by the threat from an outbreak of Middle East Respiratory Syndrome, or MERS. All this only a year after a ferry disaster that killed more than 300 people hammered confidence.
The South Korean malaise isn't rooted in a sudden shift, but the accumulation of economic challenges that still need to be addressed.
'Insidious' Economy
"There is no obvious shock, like during the global financial crisis, so the deterioration is more insidious than in the past," said Mark Walton, a senior economist with BNP Paribas.
This slow-motion crisis at home comes at a time when the country's key export markets from Brazil to China are enduring slowdowns, cutting demand for shipments of Korean-made ships and steel, flat-screen TVs and semiconductors. South Korea's highly-indebted corporate sector has also seen its export competitiveness drop off markedly thanks to the appreciation of won versus other major currencies. Exports have fallen for six months straight.
The central bank has cut rates to record lows, trimmed its growth forecasts and warned that corporate profits are slumping. Deflation is another threat, what with consumer price gains clocking in at 0.7 percent in June, well below the Bank of Korea's target range of 2.5 percent to 3.5 percent.
Dual Squeeze
President Park's administration has shown little appetite to ram through the kind of unpopular reforms needed to shake up the economy, according to BNP Paribas economist Walton.
"While the government and Bank of Korea talk about the need for structural reform to address some of these issues, the policy landscape has changed very little over the past few years," he said.
South Korea is being squeezed on two sides. A slowing China is hurting export demand short-term, while innovating and moving up the manufacturing value chain in the long-term. The country is incubating its own technology giants like Xiaomi Corp. that could someday take on the likes of Samsung Electronics Co.
"Korean manufacturers have fallen behind China in competition in general," said Choi Jong Won, Seoul-based credit analyst at Samsung Securities Co. "Falling exports impacts the overall economy, resulting in weak domestic demand."
On the other side is Japan. The rivals compete head to head on shipbuilding, car manufacturing, electronics and steel. Japan's ultra-loose monetary and fiscal policy has helped to sharply weaken the yen, undercutting its Korean rivals.
Corporate Earnings
Stress is evident everywhere. Samsung Electronics, the crown jewel of South Korea's biggest business conglomerate, has endured seven quarterly operating profit drops as its latest marquee Galaxy S6 smartphones struggled to lure enough customers away from Apple Inc. and Chinese rivals.
Carmakers are hurting too. While the weaker Japanese yen has helped inflate earnings of significant exporters like Toyota Motor Corp., it's hit their Korean counterparts hard, including Hyundai Motor Co. The Korean automaker's sales have fallen for three straight months due to a slump in overseas deliveries.
Among the shipping giants, Daewoo Shipbuilding & Marine Engineering Co. became the country's first major company to plunge by 30 percent in a single day after regulators doubled the daily limits on stock fluctuations last month. The world's second-largest shipbuilder tumbled by to 8,750 won Wednesday and closed at its lowest level in more than 12 years in Seoul trading the next day amid concerns that it may report losses and could need to restructure its debt.
In another sign of the souring sentiment on the nation's shipbuilding giants, shares in Samsung Heavy Industries Co. fell as much as 17 percent early Friday, the biggest intraday decline since at least 1994. The losses were triggered after Etoday reported the company may post an operating loss of as much as 1 trillion won in the second quarter, citing a South Korean government official it didn't identify.
Zombie Companies
The nation's biggest steel producer, Posco, has pledged to halve its domestic operations and cut overseas units by 30 percent.
Then there are the growing number of so called zombie companies, ones that are saddled with debt, in need of restructuring but are kept alive by a drip of cheap debt.
"The problem is zombie companies are increasing especially among big companies recently," said Jeong Dae Hee, a fellow in the macroeconomic policy department at state-run think tank Korea Development Institute, in Sejong near Seoul. "Zombies should be liquidated or restructured in order to gain the dynamics of economic growth."
To be sure, there are some signs of optimism. Overall corporate finance structures have improved, according to a Bank of Korea report released on June 30. The debt ratio of Korean companies has fallen to 86.5 percent at the end of 2014, compared with 105.7 percent at the end of 2009.
But challenges remain. Until the structural challenges are addressed, South Korea runs the risk of a prolonged period of stagnation, said BNP's Walton. "The longer term prospects are not good."

Read this next:
Before it's here, it's on the Bloomberg Terminal.
LEARN MORE