Spain's Prime Minister Is Trying to Rewrite His Country's Economic History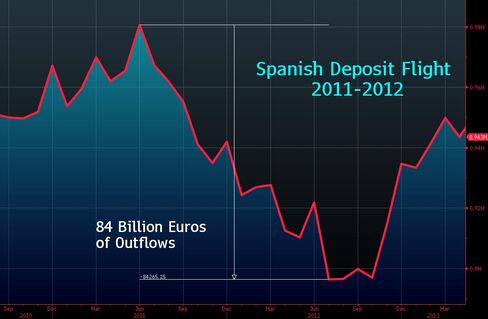 Prime Minister Mariano Rajoy is trying to tackle his checkered track record before Spain's general election -- by erasing it.
Rajoy was attacked by Socialist opposition leader Pedro Sanchez in parliament on Wednesday for triggering deposit flight in the run up to the 2012 bank bailout. His response was to assert it never happened.
"Mr. Sanchez, a seasoned politician shouldn't confuse capital flight with deposit flight," Rajoy said. "In Spain there was no deposit flight."
That contradicts the position of Rajoy's economy minister, Luis de Guindos, who already cited the deposit flight in a broadside he leveled at the Socialists in May. According to European Central Bank data, the Spanish banking system lost about 84 billion euros ($92 billion) of deposits between June 2011 and July 2012.
The outflows began under the previous Socialist government, with deposits declining by 46 billion euros by the November 2011 election. Some cash returned in December after Rajoy won power promising to fix the country's economy but the deposit flight resumed in January, with another 46 billion euros leaving the system before Rajoy asked the euro area for as much as 100 billion euros to recapitalize the banks in July 2012.
That bailout is another blot on his record that Rajoy is working hard to clean away. Insisting that Spain never requested a bailout has become a consistent refrain in Rajoy's recent speeches as he tries to burnish his reputation as an economic manager before a general election due around the end of the year.
No Sovereign Bailout
While it's true that the Spanish sovereign was never bailed out, Rajoy did eventually borrow more than 40 billion euros from his euro-zone partners for banks and had to accept the oversight of international officials as a condition.
"It doesn't make sense to deny what was obvious at the time," said Juan Jesus Gonzalez, a Sociology professor at UNED university in Madrid. "It's not the only contradiction in his position. He's submitting the Greek rescue to parliament when he didn't do that with the Spanish one."
Rajoy and De Guindos have brought Spain's economy back to life just in time for the election. Output expanded at the fastest pace in seven years in the first quarter after recovering from the worst recession in Spain's democratic history.
They've had more trouble keeping their economic narrative on track.
Ahead of Greece's referendum this month, Rajoy was among the most strident voices declaring that a vote for Prime Minister Alexis Tsipras and against austerity would see the country forced out of the euro.
"If he wins the referendum there isn't any other alternative for Greece than to leave the euro," Rajoy said June 30.
When Tsipras not only won his referendum, but then performed a dramatic volte-face to target a third rescue program from the euro area, it fell to De Guindos to present the revisionist version of the Spanish position.
"All of us want Greece to continue in the euro," De Guindos said on July 6, the day after Tsipras's victory. "Greece is completely with its rights to request a third bailout."
Before it's here, it's on the Bloomberg Terminal.
LEARN MORE