Pound Jumps to Seven-Year High Versus Euro on Policy Divergence
The pound advanced to the strongest level in more than seven years against the euro, powered by prospects of a further divergence in monetary policy as the U.K.'s economy gathers momentum.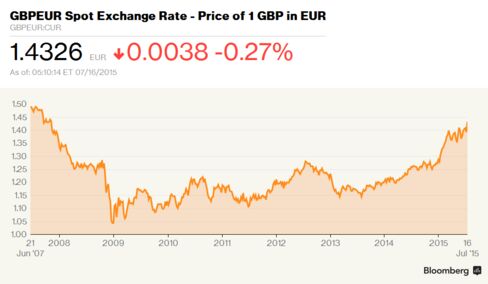 Pound bulls got more encouragement this week as Bank of England policy makers, including Governor Mark Carney, signaled that Britain's first interest-rate increase since the outbreak of the global financial crisis may come sooner than investors anticipate. U.K. government bonds gained.
The European Central Bank, which kept its main interest rate at a record low on Thursday, is implementing a plan to buy 60 billion euros ($65 billion) of assets a month until at least September 2016 to revive the 19-nation economy.
"It's primarily a sterling story, but obviously counting on what is going on with the euro at the same time," said Neil Mellor, a London-based senior currency strategist at Bank of New York Mellon Corp. The BOE is "becoming more confident about raising interest rates," he said.
The pound strengthened 0.2 percent to 69.89 pence per euro as of 4:32 p.m. London time, after touching 69.63 pence, the strongest level since November 2007. Sterling slipped 0.3 percent to $1.5595, after gaining 1 percent in the previous two days.
The time for the benchmark interest rate to rise from its record low is "moving closer," Carney told lawmakers in London on Tuesday. Monetary Policy Committee member David Miles said in a speech in the capital on the same day that "the time to start normalization is soon."
Investors don't see rates rising until May 2016 at the earliest, according to forward contracts based on the sterling overnight index average, or Sonia.
The BOE's benchmark rate of 0.5 percent compares with the ECB's refinancing rate of 0.05 percent. The central bank in Frankfurt also has a deposit rate of minus 0.20 percent.
The yield on benchmark 10-year gilts fell two basis points, or 0.02 percentage point, to 2.09 percent. The 5 percent bond due in March 2025 rose 0.235, or 2.35 pounds per 1,000-pound face amount, to 125.275.
Before it's here, it's on the Bloomberg Terminal.
LEARN MORE