Nordea CEO Warns of Negative Rate Fallout as Bank Costs Soar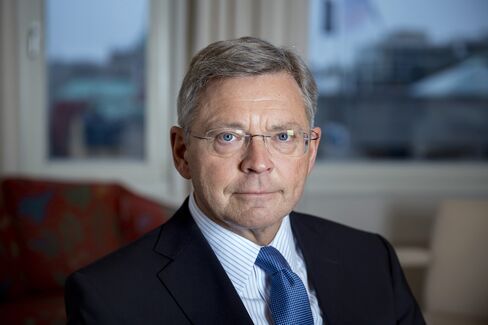 The head of Scandinavia's biggest bank warned of the consequences of persistent negative interest rates as their cost to the financial industry swells.
"I'm concerned that we have all these negative rates now when we start to have positive growth -- and that goes all over Europe, and Denmark, and so on," Christian Clausen, the chief executive officer of Nordea Bank AB, said in an interview on Thursday. "It's clearly a sign of things not being normal. The sooner we get normalized interest rates, the better, for everyone."
Sweden's biggest banks are losing more than 1.15 billion kronor ($135 million) each quarter by absorbing the cost of negative central bank rates. Lenders have refused to transfer those costs to retail customers for fear of losing business.
Nordea stands to lose about 450 million kronor each quarter, on a group level, by not charging customers for deposits, Clausen said. SEB AB says it costs about 300 million kronor to foot the bill of negative rates, while Swedbank AB estimates it is spending at least 400 million kronor quarterly.
Nordic banks are particularly hard hit with both the central banks of Sweden and Denmark relying on benchmark rates well below zero to achieve their monetary policy goals. In Finland, European Central Bank rates apply. Banks whose operations are split across the region, like Nordea, have to deal with negative rates in three countries.
Shares in Nordea slipped as much as 1 percent on Friday and traded 0.5 percent lower at 109.80 kronor as of 10:24 a.m. in Stockholm.
'Not Normal'
"It is a challenge," Clausen said. "It is obvious that we will not charge household customers -- it is a temporary situation, it is not normal. Customers need to be able to put money in the bank without paying for it."
As negative rates erode banks' revenue, Nordea says it's also setting aside reserves to prepare for the possibility of even stricter capital requirements in Sweden. The bank made a 4.6 billion-euro ($5 billion) "proactive" provision, it said on Thursday.
Swedbank, Sweden's biggest mortgage lender, says industry profits are "under renewed pressure" because of negative interest rates and general financial market uncertainty. CEO Michael Wolf said on Thursday Swedbank doesn't plan to charge the majority of its clients for deposits.
Riksbank's Dilemma
Nordea's Clausen said it's worrying that rates in Sweden are so far below zero -- the central bank's main rate is minus 0.35 percent -- at a time when economic expansion is picking up. The growth rate and the fact that price growth is positive when adjusting for energy warrant a central bank rate of "at least 1 percent," he said.
Though the Riksbank has been plagued by persistent bouts of disinflation, and even deflation, Clausen argues that policy should be guided by Sweden's economic expansion and positive price growth, adjusted for energy. Sweden's dilemma, he said, is that its monetary policy is shaped by factors outside its borders, namely ECB stimulus.
Before it's here, it's on the Bloomberg Terminal.
LEARN MORE