Kenya Central Bank Taking Steps to Stem 'Disorderly' Markets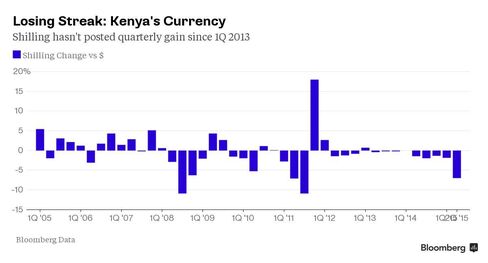 Kenya's central bank is taking steps to eliminate "disorderly" market developments and is prepared to intervene to stem a "sharp" depreciation of the shilling, Governor Patrick Njoroge said.
Like other African currencies, the shilling has tumbled against the strengthening dollar, said Njoroge. It has depreciated 12 percent this year and analysts at firms such as Nairobi-based HTM Capital and Renaissance Capital in Johannesburg see further weakening in the shilling.
"The Central Bank of Kenya stands ready to enhance its open-market operations and other measures including intervening through the direct sales of U.S. dollars to commercial banks to stem a sharp depreciation," Njoroge said in a statement e-mailed from the capital, Nairobi, on Thursday.
Higher interest rates have failed to stem the currency's slide. At an unplanned meeting in June, the central bank raised its key lending rate for the first time in 3 1/2 years by 150 basis and then again by the same margin last week.
The latest policy tightening will help smooth currency market volatility and anchor inflation expectations, said Njoroge, who was appointed on June 26.
The bank has adequate foreign-exchange reserves to stabilize the shilling against short-term shocks, the governor said. Kenya held $6.6 billion in official foreign reserves on July 9, down 9.8 percent since the beginning of the year.
The inflation rate was 7 percent in June, below the government's 7.5 percent upper-limit target.
Growth in East Africa's biggest economy slowed to 4.9 percent in the first quarter from 5.5 percent in the previous three months, the statistics agency said on July 1. The tourism industry contracted for a fifth consecutive quarter, it said. The sector has been hurt by a spate of attacks in Kenya by militant Islamist group al-Shabaab, which prompted foreign travel advisories and scared away holidaymakers.
Before it's here, it's on the Bloomberg Terminal.
LEARN MORE