Jarden's Take on Private Equity: Publicly Traded, Up 5,000%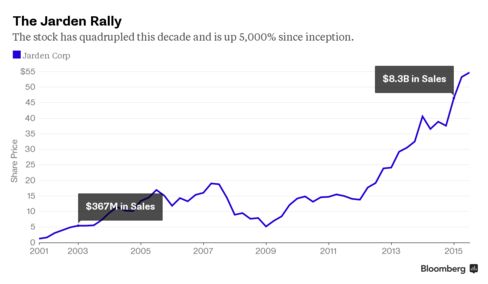 Jarden Corp. once struggled to sell its story on Wall Street. Not anymore.
Despite being a collection of 28 business units and 120 consumer brands, Jarden has persuaded investors it's not a conglomerate, a business model that recently has lost favor.
By selling mass-market brands -- Margaritaville blenders, Coleman grills, Rawlings baseball mitts -- Jarden has powered through an uneven economic recovery. Investors like what they see. In the past 12 months, Jarden shares have risen 41 percent; they're up 5,000 percent on a split-adjusted basis since September 2001, when new leadership began turning an unsung plastics maker into a consumer-products company.
Jarden buys promising brands in stable, niche categories; this week, the company agreed to pay $1.35 billion for Waddington Group Inc., which makes disposable cutlery. Jarden brands retain most of their autonomy, including headquarters, research and sales teams, so they avoid the bureaucratic bog and stay entrepreneurial.
The company is hard to categorize. Piper Jaffray Cos. analyst Steph Wissink likens Jarden to a "publicly traded private-equity firm." Jarden executives, keen to play down the conglomerate tag, call their creation a "platform," an emerging term for companies that don't sprawl like a traditional conglomerate but focus on one industry.
'Very Rare'
While Jarden is a "very rare" animal, Wissink said, "people are getting more comfortable with the fact that there is actually a legitimate investment case here."
Early on, Jarden confused investors because its acquisitions were all over the map, from vacuum food preservers and rope to playing cards and skis. Short sellers pounced a few years back, sowing doubt about the company's model. The global recession knocked Jarden down another peg as shoppers pulled back on pretty much everything it sells.
Executives have since done a much better job explaining their story, and that's helped the stock, Wissink said. The company's financial performance adds to the allure. Last year, sales surged about $931 million to $8.3 billion, split almost equally between acquisitions and organic growth. Buying Waddington will add an additional $800 million to sales in 2016.
On Thursday, the company said it would sell 14 million shares to help fund the Waddington purchase. Jarden also said that preliminary second-quarter sales rose to about $2 billion, exceeding analysts' $1.96 billion average estimate, and that adjusted profit was in line with analysts' current projections.
Jarden could yet stumble. Rising interest rates will make borrowing more expensive, potentially crimping dealmaking. The company could buy a dud that requires cash infusions or needs to be sold at a loss.
Analyst Love
Right now, though, analysts see few holes; 14 of the 16 who cover Jarden have a buy rating, making it one of the most highly ranked U.S. stocks. Still, the shares closed Wednesday at a 14 percent discount to the average of the Standard & Poor's Midcap 400 Index, on a price-to-earnings basis.
Jarden is the brainchild of dealmaker Martin Franklin. In 2000, he and long-time partner Ian Ashken, tried and failed to acquire Alltrista Corp., a struggling maker of plastics. After agitating for seats on the board, Franklin and Ashken were named chief executive officer and CFO, respectively.
Alltrista made some consumer products, including Ball mason jars. Most important, the company already had big customers, including Wal-Mart Stores Inc. The duo streamlined the company, bought mass-market brands and began pushing their products through the existing distribution network.
Good Cards
"It was a blank slate," said Bill Chappell, an analyst at Suntrust Banks Inc. "It's like you are playing with a smart poker player who gets to choose the cards. Would I want Martin to be picking out those cards? Absolutely."
From the get-go, Jarden didn't worry about how an acquisition fit into its portfolio of brands the way a competitor such as Newell Rubbermaid Inc. would. As long as the buyout price wasn't too rich, and the target made products a retailer wanted, it went on the potentials list. In the past 13 years, Jarden has bought 29 companies. The Waddington acquisition would be the third deal to exceed $1 billion.
Cost Obsession
Franklin brings to Jarden an obsession with containing costs. Some companies spend millions hiring a branding firm to come up with a name. Franklin combined "jar" and "den" -- as in the room where a customer might use a mason jar or other consumer products. Inelegant perhaps, but cheap.
For years, the company's office in Rye, New York, lacked a private bathroom and fridge. New digs in Norwalk, Connecticut, feature a kitchen and dining room, but no full-time receptionist, just a phone in the lobby and a company directory.
"To have a receptionist just sitting there probably on Facebook?" said CEO Jim Lillie. "Martin, Ian and I have always had the philosophy of spend it like it's your own money."
Lillie, who joined Jarden in 2003 and succeeded Franklin as CEO in 2011, demands discipline from his division heads. Jarden uses a form of zero-based budgeting -- an accounting approach deployed successfully by 3G Capital, the private-equity shop that owns Burger King and Heinz. Annual budgets typically start at zero, and managers must justify expenses versus the more common method of adjusting from the previous year's spending. Keeping costs under wraps allows Jarden brands to invest in growth.
Coleman is a case in point, says analyst Chappell. When Jarden acquired the century-old brand in 2004, it was losing market share and putting out 50 items a year focused on camping. Jarden has since moved into several new categories including tailgating -- the RoadTrip Grill has become virtually ubiquitous at football games -- and sells 300 products, he said.
Ackman's Support
Hedge fund manager Bill Ackman considers Jarden an exemplar of so-called platform companies. He says they're misunderstood and undervalued by the stock market. Ackman's thesis is that platform companies are an improvement over traditional conglomerates because they don't own disparate businesses. They are focused on one thing -- such as selling stuff to Wal-Mart.
While Ackman's Pershing Square Capital Management doesn't own Jarden's stock, it's the largest investor in two other platform companies started by Franklin -- Nomad Foods Ltd. and Platform Specialty Products Corp. -- that are snapping up food and chemical companies.
"It's all about the focus," Ackman said in an interview.
So why aren't there more platform companies like Jarden?
"It's not something you read in business books," Chappell said. "It's something they kind of turned into."
He predicts there are plenty of imitators in the wings.
Before it's here, it's on the Bloomberg Terminal.
LEARN MORE