High-Payout Stocks Seen Reemerging as 'Black Widow of Valuation'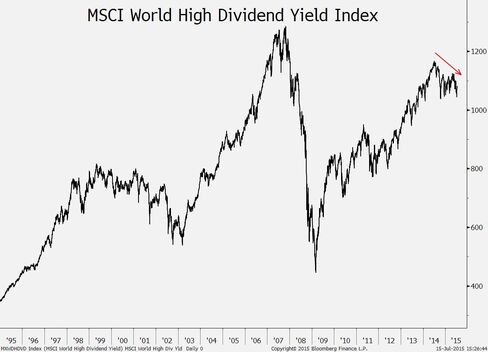 Many stock investors appear to be setting themselves up for a fall by succumbing to "the irresistibility of higher dividend yield," according to Richard Bernstein, who runs a money-management firm bearing his name.
The attached chart illustrates an indicator that Bernstein cited three days ago in a report, the MSCI World High Dividend Yield Index. The gauge consists of companies in 23 developed markets whose shares offer higher-than-average payouts by comparison with their price.
The index peaked last July and fell 7.6 percent through yesterday. The slump contrasted with a 0.2 percent increase in the MSCI World Index, which includes every company in the other indicator. The high-yield index's payout as of yesterday stood at 3.83 percent, which exceeded the MSCI World's 2.40 percent dividend yield, according to data compiled by Bloomberg.
Dividends are "The Black Widow of Valuation," Bernstein wrote, referring to spider species whose bite is poisonous to humans and insects. He introduced the phrase in a 1989 report for Merrill Lynch, now a Bank of America Corp. unit.
"Investors today seem to be as myopic toward the risks of income investing as they were in 1989," Bernstein wrote in his latest note. The chief executive and chief investment officer of Richard Bernstein Advisors LLC, based in New York, cited master limited partnerships and real estate investment trusts to show their shortsightedness.
The Standard & Poor's MLP Index, consisting of energy-related partnerships paying out almost all of their income to investors, retreated 10 percent for the year through yesterday. Bernstein cited the barometer in his report. The Bloomberg REIT Index fell 11 percent through yesterday from a peak on Jan. 26.
Before it's here, it's on the Bloomberg Terminal.
LEARN MORE