FIFA Executives Head to Site of Worst Day for Meeting on Reform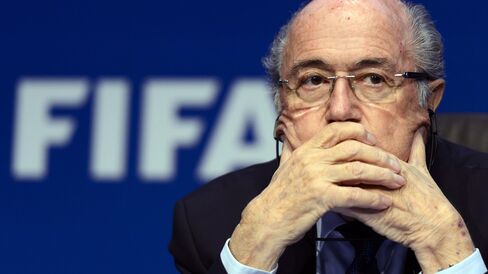 Soccer's governing body says it's ready for reform, two months after several senior officials were arrested in a U.S. bribery probe. The question is who will oversee it.
FIFA President Joseph "Sepp" Blatter, who took over in 1998, has promised to step down by early next year. On July 20, he'll hold a meeting of the group's board to discuss the timing of his successor's election and changes that may prevent some practices that the U.S. Justice Department alleges were part of two decades of "rampant" corruption.
"Who the president is most important," said Michael Hershman, co-founder of Transparency International, part of a group whose suggestions for better governance were ignored by FIFA. "The reforms are only as good as the paper they are written on. If you don't have a leader who is willing to change the culture of the organization then any of the reforms that you put on paper will go by the wayside."
The board meeting returns executives to Zurich, where seven colleagues were led out of a luxury hotel into waiting police cars on May 27. The U.S. charges, which include racketeering, money laundering and tax evasion, prompted Blatter to pledge that he would step down -- just four days after being re-elected to a fifth term.
Blatter hasn't left Switzerland since the scandal broke, skipping major events including the recently completed women's World Cup in Canada and South America's Copa America.
"Until everything has been cleared up, I am not going to take the risk of traveling," Blatter, who has not been formally implicated in the scandal, told Germany's Welt am Sontag.
Term Limits
Term limits are likely to be proposed at the meeting. The executive board -- called Exco by FIFA executives -- is made up of officials elected by regional governing bodies.
"Now it is time to introduce reforms that address the governance of the Exco and the various committees," Domenico Scala, FIFA's independent audit and compliance head, said by e-mail last month. "Plenty can be done: The term for the president could be three times for four years. The same term limit should also apply to the other Exco members, the ethics and the audit and compliance committees," Scala said.
The group will also agree on changes to the way future World Cup hosts are chosen to eliminate potential sources of corruption and introduce human rights conditions that must be met during construction.
Uncertainty at FIFA, the French acronym for Federation Internationale de Football Association, will probably remain even after it makes leadership changes and corporate governance reforms.
Bank Transactions
The American investigation is ongoing, while a separate Swiss probe into the bidding competition for the next two World Cups has so far unearthed more than 80 suspicious bank transactions, according to the Swiss attorney general's office.
The countries' authorities will probably monitor attendees as they stream into the same hotel that was surrounded by police and media the day of the arrests.
Brazil soccer head Marco Polo del Nero has come under pressure to resign from opponents in the South American country after his predecessor Jose Maria Marin was detained in May's raids.
Del Nero, a member of FIFA's 25-person executive committee, boarded a plane to Brazil hours after his colleagues were awakened by police in their rooms at the ritzy Baur au Lac hotel and taken into custody. Del Nero, whose details are similar to an unnamed co-conspirator in the U.S. indictment, denies any wrongdoing. He's traveling to Switzerland for the meeting, a Brazil soccer federation spokesman said.
Replacements?
Last week Jeffrey Webb, a FIFA vice president once tipped by Blatter to be his potential heir, became the first to agree to be extradited. He arrived in the U.S. Thursday.
Credible figures to replace Blatter have yet to confirm their intentions of running in the election to replace him. European soccer head Michel Platini, a Blatter loyalist-turned-foe who once harbored ambitions to be FIFA president, hasn't announced any plans. Neither has Prince Ali Bin Al Hussein of Jordan, who was beaten by Blatter in the May 29 election. Former Brazil national team member Zico and a Liberian soccer official have said they'd make a run for the job.
"We need to have a new president who is open minded about reform and serious about reform not only at the FIFA level but at the federation and confederation level," Hershman said.
Blatter has tried to distance himself from the wrongdoing, saying he shouldn't be held responsible for the actions of regional officials. FIFA has said the majority of alleged crimes exposed by U.S. authorities took place at at local levels away from the governing body's oversight.
"They are people that he appointed to very important committee assignments," Hershman said. "He empowered these people to essentially promote their own self interests."
Before it's here, it's on the Bloomberg Terminal.
LEARN MORE