Carrefour Quarterly Sales Slow as Chinese Revenue Declines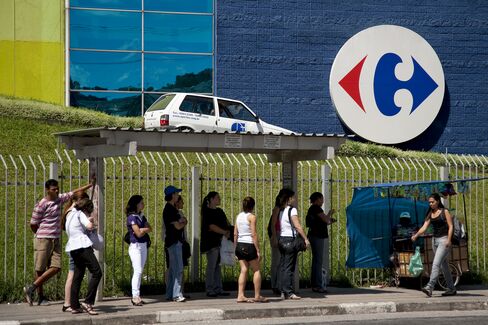 Carrefour SA, France's largest retailer, reported slowing sales growth as business at the company's Chinese stores was weighed down by weak consumption.
Second-quarter revenue rose 4.2 percent to 21.4 billion euros ($23 billion), Boulogne-Billancourt, France-based Carrefour said Thursday. That matched the median of 17 analysts' estimates compiled by Bloomberg and was less than the first-quarter's 6.2 percent gain. Like-for-like sales in China fell 12 percent, excluding fuel and calendar effects.
Chinese consumers are spending less when they shop and the prices of products such as pork and cooking oil have fallen, Chief Financial Officer Pierre-Jean Sivignon said on a call with reporters. The executive said Carrefour remains committed to the country, where it got 6.5 percent of sales in 2014.
"China remains small, but painful," said John Kershaw, an analyst at Exane BNP Paribas in London.
Chief Executive Officer Georges Plassat is trying to cement a revival by ramping up investment amid increased competition both at home and abroad. He's earmarked as much as 2.6 billion euros for projects this year, including modernizing stores, adding collection points for online orders in France and opening logistics centers in China.
Carrefour stock was up 1 percent at 30.42 euros as of 10:04 a.m. in Paris.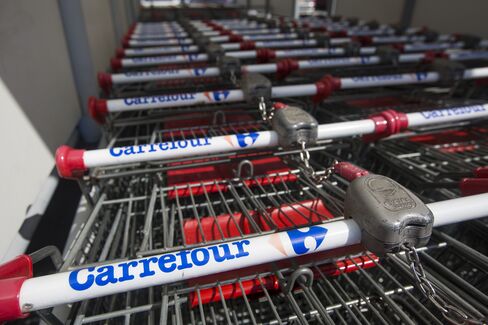 French Growth
All store formats in France boosted sales on a like-for-like basis, though the rate more than halved from the first quarter as Casino Guichard-Perrachon SA and other rivals stepped up efforts to win hypermarket clients. Carrefour's Brazilian sales advanced 7.1 percent, while in Spain growth accelerated to 2.8 percent, beating estimates.
"2015 will likely be a transition year for Carrefour in France," said Nicolas Champ, an analyst at Barclays Plc.
Analysts' estimates for full-year recurring operating income of 2.51 billion euros to 2.53 billion euros are "reasonable," Sivignon said, attributing the recent 20 million-euro reduction in the consensus range to currency fluctuations. Carrefour earned 2.39 billion euros in 2014.
While the retailer "will be ready" to sell shares in an initial public offering of its Brazil unit this year, it "depends totally on market conditions," which aren't there at the moment, Sivignon also said. The country's benchmark Ibovespa Index has dropped 3.2 percent in the past three months.

Read this next:
Before it's here, it's on the Bloomberg Terminal.
LEARN MORE