Audi Said to Revise China Target as Stock Rout Saps Demand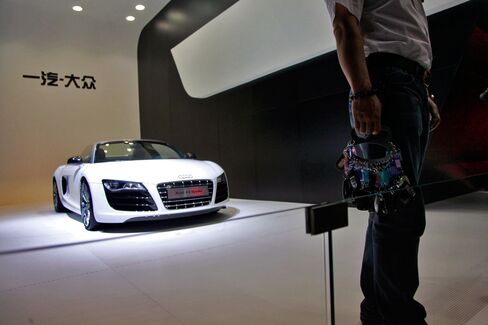 Audi AG has abandoned a target to sell 600,000 cars this year in China, its biggest sales region, as the country's stock market rout sapped demand for luxury vehicles, two people familiar with the company's plans said.
The German carmaker will provide an update on the market situation when it announces first-half results on July 30, said the people, who asked not to be named because the information isn't public. Audi's Chinese sales rose 1.9 percent to 273,853 cars in the first half.
"We're monitoring the market very closely and anticipate further growth in the mid- and long term," the Ingolstadt-based unit of Volkswagen AG said in an e-mailed response to questions.
Audi said at the Shanghai auto show in April that its annual sales in China including Hong Kong, which hit 578,932 cars last year, were poised to reach 600,000 for the first time in 2015. Since then, the Chinese auto market has joined a long list of economic casualties as a stock market in free-fall spooked consumers. Jaguar Land Rover cut prices and sales targets on Tuesday.
"Basically Audi are saying that the rest of the year will be pretty much flat," Arndt Ellinghorst, a London-based analyst at Evercore ISI, said in a note. After more than tripling its Chinese deliveries since 2009, the brand is facing the slowdown as its best-selling A4 sedan is aging, he said. It will present a revamped version of the A4 in September.
Apple, Caterpillar
Audi is China's best-selling luxury-car maker and the world's No. 2 after BMW AG. It's also the biggest profit generator at parent company Volkswagen. The slowing Chinese economy and equity market losses, including the largest three-week selloff since 1992, have also led to concerns about the sales prospects of products as diverse as Apple Inc.'s iPhone and construction equipment from manufacturers including Caterpillar Inc. and Swedish truckmaker Volvo AB.
Volkswagen rose 2.8 percent to 203.4 euros at 11:30 a.m. in Frankfurt.
Growth in China, where auto sales declined in June for the first time in more than two years, is vital for Audi's plan to overtake BMW worldwide by the end of the decade. Both companies lost ground in the country last month to Mercedes-Benz, which is also fighting for the top global spot in luxury cars.
BMW Adjusting
BMW has "moderately" adjusted the expansion plan at its plants in Shenyang as the Chinese market is "normalizing," the Munich-based company said in an e-mailed statement. "We will continue to grow our production volume over the base of 2014 but slowing down the speed of growth."
Audi's Chinese deliveries dropped 5.8 percent in June, while BMW sales slipped 0.1 percent. Mercedes sales jumped 39 percent to 32,507 autos.
Mercedes said it still plans to deliver more than 300,000 cars in China this year, as new products help entice customers to the brand. Mercedes pricing was stronger than that of its competitors in China, the Daimler AG unit said in an e-mailed statement.
The country's auto market has been the key growth driver for luxury-car makers in recent years. The benchmark equity index has declined 22 percent in the past month, the biggest loss among global gauges. Vehicle sales will probably rise this year at their slowest pace since 2011, the China Association of Automobile Manufacturers said Friday.
BMW already cut prices on some models in April, reducing production to prevent a buildup of unsold cars.
Read this next:
Before it's here, it's on the Bloomberg Terminal.
LEARN MORE