Woman Who Fled Nazis for Wall Street Invited to Ring NYSE Bell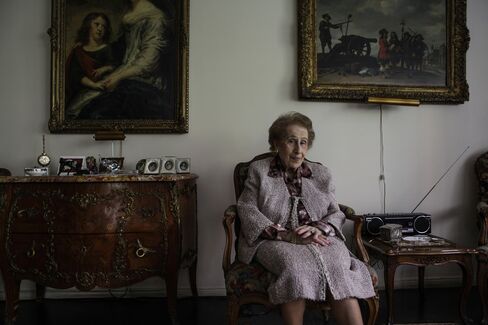 Irene Bergman, the 99-year-old Wall Street financial adviser profiled by Bloomberg last month, has been invited to ring the bell at the New York Stock Exchange for her 100th birthday.
Bergman, born Aug. 2, 1915, would become one of the oldest people to open or close the trading day in the exchange's 198-year history, according to Sara Rich, an NYSE spokeswoman. Bergman's birthday falls on a Sunday this year and an exact date for the ceremony hasn't been set.
"It's an honor that I never would have expected," Bergman said Wednesday. "It's very important to me and I'll tell you why: my father was vice president of the Berlin stock exchange and I'm sure he would be very happy."
Bergman has worked for Stralem & Co. since 1973 and advises clients from her New York apartment. She came to the U.S. after the Nazis chased her Jewish family out of Germany and then Holland. She worked as a secretary for 15 years, and in 1957 joined Hallgarten & Co., a member of the exchange and one of the private partnerships that then made up Wall Street.
Before it's here, it's on the Bloomberg Terminal.
LEARN MORE