This Time Is Different as Greece Fails to Panic European Stocks
Latest pull-back sparked by Greek crisis mild compared with sell-offs in past 10 years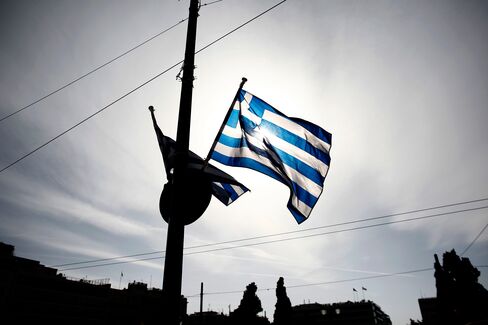 European stocks' latest pullback, fueled by the resurgence of the Greek debt crisis, has been mild relative to selloffs seen in the past 10 years, suggesting that investors are getting more confident about the region's long-awaited economic recovery.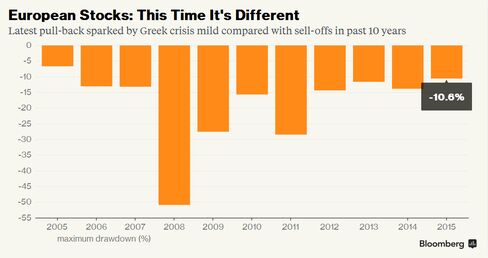 The selloff on Europe's benchmark Stoxx 600 index from April 15 to July 8 -- the only one so far in 2015 -- was 10.6 percent, smaller than any of the annual maximum drawdowns seen since 2005, data compiled by Bloomberg shows.
During the early heat of the euro-zone sovereign debt crisis in 2011, the Stoxx 600 plummeted 28 percent as global investors rushed for the exit.
"The resilience of the market in the past month is a very positive signal," said Nadege Dufosse, asset allocation strategist at Candriam Investors Group in Luxembourg. "It shows that Europe's mechanisms to prevent contagion are credible, and that beyond the political stress over Greece, fundamentals are solid."
With the rebound of the past few days, the Stoxx 600 is up about 16 percent year-to-date, and up about 5 percent in U.S. dollar terms, outpacing Wall Street's Standard & Poor's 500 Index, which is up about 2 percent over the same period.
"It's different this time," Citigroup strategists wrote in a research note dated July 9. "Contagion risk has greatly reduced since 2011-12."
The region's economic recovery, better capital and funding for euro-zone banks as well as an enhanced tool kit for the European Central Bank are reassuring investors, the strategists wrote.
The region also offers better prospects for corporate results this year, Candriam's Dufosse said, with analysts predicting earnings growth of 6.7 percent for Stoxx 600 companies in 2015 -- including 19 percent for the banking sector. That compares with expected earnings growth of 1 percent for the S&P 500, and 4.2 percent for U.S. banks.
Investors' bullishness toward European stocks is also visible in investment-flow data. Europe equity funds have enjoyed net inflows for the past eight straight weeks, according to Bank of America's Merrill Lynch unit, as investors continued to pour money into the region even amid concern Greece was edging towards an exit of the currency bloc.
Before it's here, it's on the Bloomberg Terminal.
LEARN MORE