These Death Puts Are Making Bankers Nervous
A grave trade for banks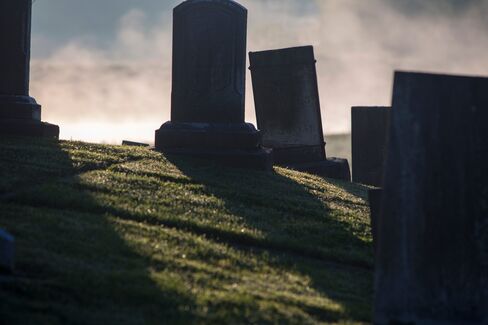 Buyers of structured certificates of deposit used to be comforted by a feature that ensured their relatives would be able to redeem the products early if they died.
A group of advisers and their clients were eyeing the products for a different reason: profit.
These advisers tried to capture the difference between the trading price and the par value of market-linked CDs with so-called death puts for their clients. It was enough to cause losses for the banks, and spur them to enact various limits on the provisions in response, according to Tina Pellegrino, senior vice president for structured products at distributor Advisors Asset Management.
Restrictions have become commonplace in market-linked CDs in the past four to five years, which may give some elderly buyers pause as maturities of the products lengthen to counter low interest rates. The provision is often found in investment products like traditional CDs, which don't see the same type of secondary trading as certain rate-linked structured CDs.
"The nature of these structures, with large, front teaser coupons and thus the possible heavy discounts to par value, can expose bank treasuries to targeted death put redemptions," Rick Cabanes, senior vice president for structured products at Bank Hapoalim's securities unit, said in an e-mail.
Adviser Incidents
Changes began to take place after incidents where financial advisers bought market-linked CDs at large discounts in the secondary market and stuck them in the portfolios of ailing clients, according to Pellegrino. Upon the holder's death, the beneficiaries profited by redeeming the products at par and pocketing the difference.
While those types of redemptions were sporadic, the fact that CDs can trade more than 20 percent below par made such situations costly enough for banks that they decided to crack down, according to people familiar with the matter, who asked not to be identified because the information isn't public. There's nothing to suggest holders did anything wrong by redeeming the products, because unlimited death puts were initially built in, the people said.
Market-linked CDs with terms as long as 15 to 20 years that are tied to interest rate measures such as the steepness of the yield curve can go years without paying a coupon. Those are particularly sensitive to trading at a discount, according to Cabanes, whose firm produced an educational video about death-put features.
10 Percent
JPMorgan Chase sold 20-year CDs linked to swap rates last September that may restrict survivor redemptions to 10 percent of the deal's size, according to a disclosure document. The CDs, which make payments based on how much the 10-year U.S. dollar-swap rate exceeds the two-year, specify that the bank may impose the limit at its own discretion.
Barclays issued five-year market-linked CDs last month tied to a basket of five stocks that can restrict individuals from redeeming more than $1 million of various Barclays CDs.
Amanda Smith, a spokeswoman for JPMorgan, and Mark Lane, a spokesman at Barclays, declined to comment.
The patchwork of death-put restrictions creates its own difficulties, according to Cabanes, who favors standardized guidelines for all bank-issued market-linked CDs, such as full death benefits for only those who bought them when they were issued.
"The restrictions are varied, confusing for the marketplace and cumbersome to delineate, which ultimately just limits overall volumes," Cabanes wrote in an e-mail.
'Nice Feature'
Structured CDs are created by banks, which package debt with derivatives to offer customized bets to investors while earning fees and raising money. The FDIC insures the products for as much as $250,000.
Market-linked CD revenue made up 1.92 percent of consumer banking deposits on average in the first three months of the year, the most since the first quarter of 2013, according to Bank Insurance & Securities Research Associates data.
While the death benefit can give elderly holders peace of mind that their survivors will be able to liquidate long-term products in the event of death, investors are lukewarm about their usefulness.
"It's a nice feature to have," says Tom Balcom, founder of Lauderdale-by-the-Sea (Fla.)-based 1650 Wealth Management, adding that it's "not a deal breaker" when buying a market-linked CD.
Chris Sandys, portfolio manager at Belpointe Asset Management in Greenwich, Conn., says investing in a CD with a death put is "pointless" from his perspective, since products with that feature typically offer worse terms and investors already have ways to sell investments they don't want. He's also never had a problem with illiquidity when trying to trade the CDs, he says.
The survivor's option "shouldn't be the only reason you buy the CD," says Pellegrino. "If you're buying it just for that reason, you probably shouldn't be buying the CD."
A version of this story first appeared in Bloomberg Brief's Structured Notes newsletter.
Before it's here, it's on the Bloomberg Terminal.
LEARN MORE