Thatcher's Staff Urged Iron Lady to Give Voters a 'Cosy Feeling'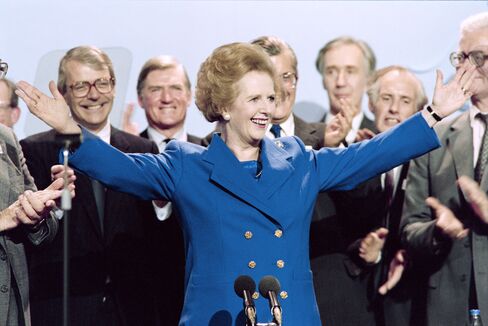 Margaret Thatcher was urged to soften her rhetoric in order to make people "feel good" as she prepared to fight her third general election, newly released papers show.
In 1986, the British prime minister was beginning her eighth year in power, and her office became concerned about how she and her ministers were communicating with voters, especially after a dispute about the future of the Westland Helicopters company led to the resignations of two members of her cabinet.
Papers released Thursday by the National Archives in London show how her press secretary, Bernard Ingham, wrote to Thatcher the following month to reassure her of her "domination of current politics and intellectual argument." Still, he said, the public needed "the cosy feeling that they know where they are." The word "cosy" is not one usually associated with a prime minister who gloried in the nickname "The Iron Lady."
"People want to be inspired," Ingham wrote. "Apart from bringing meaning to people's lives, your task is also to make them feel good."
Thatcher, whose views of the advice she received had to be interpreted largely from her annotations of it, repeatedly underlined "feel good." She ignored "cosy."
Ingham wasn't advising the prime minister to soften up too much, though. A few months later, after Thatcher's Conservatives fared poorly in local elections, he sent another note. "The situation needs watching," he wrote. "If there is a liability at the moment, it is the impression abroad that the government is too much at the mercy of events. You need to be seen to be imposing your will on things." Thatcher went on to win the 1987 general election convincingly.
Trips Abroad
Another file, from 1985, offers an insight into both the panics that can attend political trips abroad and the difficulties of life before the World Wide Web. At the start of a nine-day, six-country tour of Asia, Thatcher's aide, Charles Powell, sent an urgent telegram back to London from the airplane. The British ambassador to Indonesia had noticed what he said was an error in a proposed Thatcher speech.
"I am in telegraphic dispute," wrote Powell, "about exactly what the Rafflesia is. I read somewhere that it is a giant water lily, the largest plant in the world. He maintains it is a leafless parasitic plant. Grateful definitive view soonest. If it's not a water lily, we have to change a speech!"
Back came the reply. "Is the largest known flower in the world," it said. "It is not however a water lily." The sign-off wasn't entirely respectful: "Any more for Gardeners' Question Time?"
Powell wasn't amused. "Reply regarded as bordering on disloyal," he sent back. "Could they not defensibly be regarded in common parlance as water lilies? They certainly look like them."
Call Kew
He demanded the official consult the Ministry of Agriculture, the National Plant Research Laboratory and the Royal Botanic Gardens at Kew, London. "You will know that alterations to speech must at all costs be avoided," he closed. "Supporting evidence of link with water lily a must."
He was to be disappointed. A further message came back. "Not, repeat not, aquatic. Amount to what most would regard as an over-sized fungus. Conclude reference to 'water lilies' should be deleted."
The victorious London official, safe in the knowledge that Powell was thousands of miles away, signed off simply: "Greenfingers."
Read this next:
Before it's here, it's on the Bloomberg Terminal.
LEARN MORE