SeaWorld Puts Alleged Undercover Animal Activist on Leave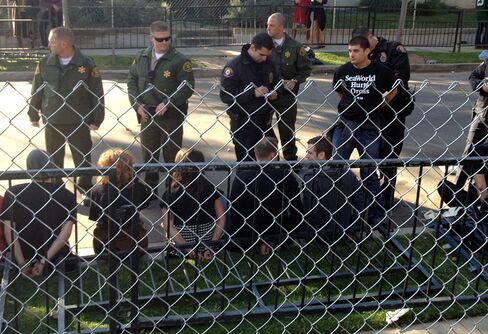 SeaWorld Entertainment Inc. has put an employee on paid leave and begun an investigation after an animal-rights group claimed the staffer posed as an activist and protested at company events.
The investigation, which will be led by Ron Olson of the law firm Munger, Tolles & Olson LLP, will have full access to the company and its people, SeaWorld Chief Executive Officer Joel Manby said in a statement Wednesday.
"The allegations made yesterday against a SeaWorld employee are very concerning," Manby said in the statement, which didn't name the employee. "These allegations, if true, are not consistent with the values of the SeaWorld organization and will not be tolerated."
People for the Ethical Treatment of Animals said this week that SeaWorld employee Paul McComb had masqueraded as an animal-rights activist named Thomas Jones for three years, holding anti-SeaWorld signs in front of the company's San Diego theme park and getting hauled away by police during a protest at the Rose Parade in Pasadena, California, last year.
McComb, reached by telephone Monday, declined to say whether he was a SeaWorld employee and hung up when asked if he was the activist known as Jones.
Peta, which has been protesting SeaWorld's use of killer whales in shows for decades, said McComb used the alias to gain information about events and to goad activists to take more aggressive action against the company.
"We will take all appropriate actions based on the results of the investigation to ensure that the integrity and values of the SeaWorld organization are upheld," Manby said.
Read this next:
Before it's here, it's on the Bloomberg Terminal.
LEARN MORE