Russia May Lure Skeptics to Inflation Bonds as Sale Starts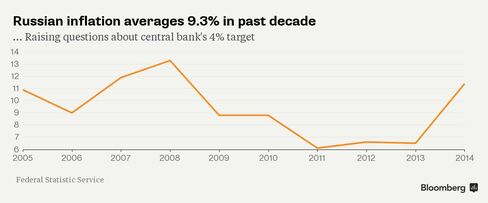 Russia's debut sale of bonds that protect against inflation looks set to appeal to investors even as consumer-price growth slows.
The Finance Ministry is targeting real yield guidance of 3.68 percent to 4.48 percent as it markets notes due in August 2023 this week, a person with knowledge of the offering said on Wednesday. This implies a break-even inflation level of 6.3 percent to 7.1 percent, according to Bloomberg calculations.
"This looks rather appealing," Yury Tulinov, the head of research at PAO Rosbank, said in e-mailed comments. "Many investors believe that average inflation in the next five years will be above that."
Russian inflation has been on a downward trajectory since touching a 13-year high of 16.9 percent in March, leading some analysts to question the timing of the sale of inflation-linked securities. So-called linkers outperform fixed-rate notes when consumer prices rise faster than the break-even rate. While the Bank of Russia is targeting inflation of 4 percent in the medium term, the rate averaged 9.3 percent in the decade to 2014.
The ministry started accepting bids for as much as 150 billion rubles ($2.65 billion) of linkers at midnight and will close the order book at 12 p.m. in Moscow on Thursday. Russia's three biggest lenders -- OAO Sberbank, VTB Group and AO Gazprombank -- are arranging the offering.
Demand for the notes exceeded 50 billion rubles on Wednesday evening, Interfax reported, citing unidentified people familiar with the placement details.
Broad Selection
The notes will carry a fixed coupon of 2.5 percent, and the principal will be adjusted every half-year based on changes in consumer prices in the previous three months. The initial guidance is set at 87 percent to 92 percent of par value, according to the person, who asked not to be identified because the details are private. At that level, investors should buy, according to Ivan Guminov, a money manager at Ronin Trust asset management in Moscow.
The government is broadening the selection of bonds it offers as it seeks funds to finance its widest budget shortfall since 2010. The Finance Ministry has raised 353 billion rubles in debt sales in 2015, and aims to boost that to 1 trillion rubles by year-end.
Before it's here, it's on the Bloomberg Terminal.
LEARN MORE