Rio Iron Ore Cut Dwarfed by Glut That's Thwarting Price Rise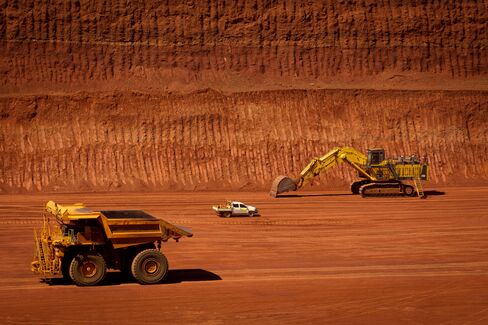 Rio Tinto Group's cut to its iron ore export forecast for this year is unlikely to make anyone bullish soon.
The second-largest exporter reduced its 2015 estimate by about 10 million metric tons. That compares with a surplus Morgan Stanley estimates will rise to 83.2 million tons in 2020 from a forecast 58.1 million tons this year as the seaborne market hits 1.4 billion tons. Prices fell last week to the lowest in at least six years, according data going back to May 2009.
The global glut is swelling and benchmark prices are mired in a bear market as Rio and its main rivals -- Vale SA and BHP Billiton Ltd. -- raise low-cost production even as demand stagnates in China, the biggest buyer. Vale said this week it's seeking to meet its full-year output target of 340 million tons, even while trimming about 25 million tons of higher-cost supply.
"It doesn't seem to me that there's going to be much impact at all from this cut" by Rio, Ric Spooner, a chief analyst at CMC Markets, said by phone from Sydney. "Overall, it's only a small reduction in volumes for the year."
Rio estimates shipments of 340 million tons in 2015, down from its previous estimate of 350 million tons, it said in a statement Thursday. That compares with cargoes of 302.6 million tons shipped in 2014.
Investec Plc analysts estimate the reduction in shipments will reduce earnings per share this year by 4.4 percent to 293 cents per share.
Rio advanced 1 percent to 2,622.5 pence by the close in London on Thursday.
Iron ore futures on the Dalian Commodity Exchange closed 0.4 percent lower at 366.5 yuan ($59) a ton on Thursday.
Tropical Cyclones
The cut to Rio's shipping target followed severe weather in Australia's Pilbara region that briefly shuttered Dampier port. About 7 million tons of shipping capacity was lost in the first half on the impact of Tropical Cyclones Olwyn and Quang, Rio said. Heavy inland rains reduced truck utilization, crimping production rates and lowering the amount of tons railed to ports, it said in the statement.
The disruption won't tighten the iron ore market this half and Rio could even exceed its revised target, Morgan Stanley analysts led by Brendan Fitzpatrick said in a note to clients Thursday after the statement was released.
Rio's total output expanded to 79.7 million tons in the three months to June 30, from 73.1 million tons a year earlier. That compared with the 81.9 million ton median estimate of six analysts surveyed by Bloomberg.
'Bullish Headline'
Read this next:
Although Rio's "lower iron ore production guidance for 2015 may appear to be a bullish headline, we stress that the decline was attributed to weather disruptions in the first half," Barclays Plc analysts led by Harry Mateer said in a credit note. "Management's full-year guidance implies an increase in shipments in" the second half, they said.
Ore of 62 percent delivered to Qingdao fell to $44.59 a dry ton on July 8, the lowest since at least May 2009, and was at $50.66 on Thursday, according to Metal Bulletin Ltd.
Compared with the annual benchmarks that preceded recent spot trading, the July 8 price would be the lowest since 2005, data compiled by Clarkson Plc show.
Before it's here, it's on the Bloomberg Terminal.
LEARN MORE