Modi Digital Drive Augurs Revival for Billionaire's Cables Unit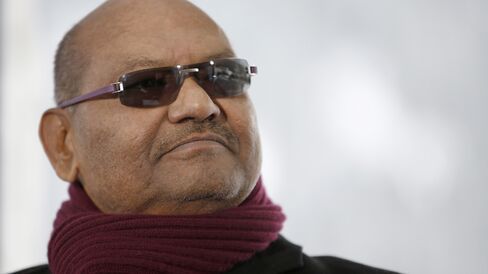 Indian metals billionaire Anil Agarwal is seeing happy days once again for a business that was almost sinking.
Breathing new life into his Sterlite Technologies Ltd., a maker of telecommunications cables, is a plan by Prime Minister Narendra Modi to take the Internet to a billion rural Indians. The initiative will lead to a 20 percent jump in orders in each of the next three years and help Sterlite end two back-to-back annual losses, Chief Executive Officer Anand Agarwal said in an interview.
The government's vow to spend $18 billion on Modi's 'Digital India' drive was bolstered this month by billionaires from Mukesh Ambani to Sunil Mittal and Kumar Mangalam Birla, who pledged a combined $70 billion in investment. Shares of Sterlite have rallied 53 percent in the past month, compared with a 7 percent gain in the benchmark index.
"The entire program is pretty ambitious, and for us it's an exciting opportunity for several years," Agarwal, who isn't related to the billionaire founder, said in his Mumbai office on July 9. It is "creating a new infrastructure for the country."
Modi's administration is seeking to engineer a "digital revolution" to expand high-speed Internet access and offer government services online. Goals include a broadband grid to link 250,000 clusters of villages by 2016 at a cost of about $5.9 billion and cloud storage for citizens, Communications Minister Ravi Shankar Prasad said in October.
No Access
Almost 1.1 billion Indians, mostly in rural areas, have no access to the Internet, McKinsey & Co. estimated in a report last year.
"Cities evolved around areas where highways were being built," Modi said in New Delhi on July 1 at the commencement of the Digital India Week. "But now, development will be around places where there are optical fibers."
Anticipating stronger demand, Sterlite spent a total of about 7.5 billion rupees ($118 million) in the last three years to double its optical fiber production capacity to 22 million kilometers and cable capacity to 15 million kilometers.
"We've already spent the money on creating capacity and now we are focusing on product expansion and delivery," Agarwal said.
Cable Orders
Sterlite is executing optical fiber cable orders worth 23 billion rupees, including those from Ambani's Reliance Jio Infocomm Ltd. and Mittal's Bharti Airtel Ltd., the nation's largest phone carrier.
The company, based in Pune near Mumbai, won a 25 billion-rupee contract from state-owned phone operator Bharat Sanchar Nigam Ltd. last year to lay 60,000 kilometers (37,000 miles) of fiber optic cable, giving it a shot in the arm.
Agarwal's company hasn't been the only local beneficiary. Shares of Aksh Optifibre Ltd., a New Delhi-based company, have surged 41 percent in the past month.
Sterlite's shares rose 0.2 percent to 99.45 rupees in Mumbai on Thursday. The founder and his family own 54.8 percent of Sterlite.
The company struggled in the last few years as a spectrum auction scandal, uncovered by the government's auditor, roiled phone operators and curtailed their ability to spend amid rising costs of airwaves.
Net income declined for three financial years through March 2013 before turning into a loss in the subsequent two years. Shares plunged 84 percent in three years to a four-year low of 16.35 rupees in August 2013, while the average daily trading volume tumbled to about half a million shares in 2013 from a peak of 9.5 million in 2006, according to data compiled by Bloomberg.
Imports, Delays
There are still many risks for Sterlite, said Ajay Jaiswal, head of research at Kolkata-based Microsec Capital Ltd., such as cheaper imports from countries like China.
"Imports were a threat a few years ago, and it can happen once again, simply because China is slowing down," he said.
Other risks may include government delays in rolling out the program. The national broadband grid was originally scheduled for completion by 2013.
Sterlite has also managed to secure 15 billion rupees of business from the local defense industry.
Sterlite in May said it will spin off its power products and transmission business into a separate unit. That will help the company save costs, according to Rabindra Nath Nayak, an analyst at SBI Capital Markets Ltd.
"The demerger is a positive development as some of the drag will be reduced," Nayak said. "Data download is getting prominence in the telecom business, so the element of optical fiber content in a network is very important. Sterlite has good potential."
Before it's here, it's on the Bloomberg Terminal.
LEARN MORE