Iranians Party Into the Night as Khamenei Backs Accord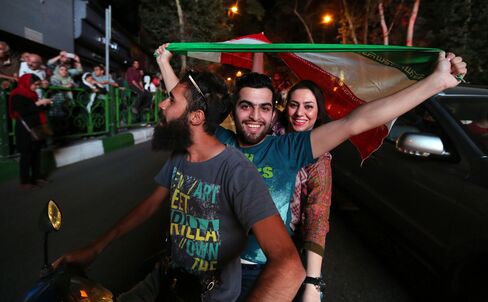 Thousands of Iranians thronged the streets of Tehran to celebrate the landmark nuclear accord with world powers, a deal that received the crucial backing of Supreme Leader Ali Khamenei, the country's ultimate authority.
Crowds flooded at least three major squares in the capital, many dancing well into the night. Celebrations clogged traffic and blocked several streets. Revelers blew into vuvuzela horns and chanted in praise of President Hassan Rouhani.
The accord reached between Iran and six world powers in Vienna will curb the Islamic Republic's nuclear program in return for lifting sanctions that crippled its economy. While implementation may take months, the agreement is a victory for Rouhani, who was elected in 2013 on pledges to end Iran's global isolation.
"Rouhani, Obama, congratulations!" some chanted in the streets in a rare public display of pro-U.S. sentiment. The two countries haven't had diplomatic relations since the 1979 Islamic Revolution deposed the Shah, Mohammed Reza Pahlavi, who was a U.S. ally.
Giti, a 48-year-old engineer who didn't want to give her surname because of sensitivity surrounding speaking to the foreign media, said young people are optimistic the deal will boost the economy and lead to better living and more jobs.
Khamenei's Backing
"I moved back from the U.S. three years ago and every business I've tried to set up has just hit a dead end, and I was thinking about going back," she said. "With the news today, I'm definitely staying."
Khamenei met with Rouhani on Tuesday evening and thanked the country's negotiators for their "sincere" and hard work, the state-run Islamic Republic News Agency reported. The backing will likely strengthen the president, a moderate cleric, in the face of his hardline opponents. The deal will also meet resistance in the U.S. Congress, where lawmakers have 60 days to review it.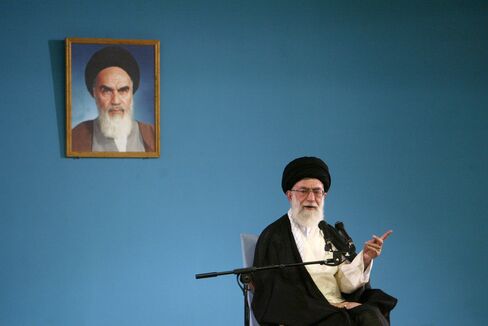 "We were never after charity but we were after a fair exchange through talks," Rouhani said in a televised address to the nation on Tuesday. "None of the sanctions were successful but they had an impact on people's lives."
Hamshahri, the country's biggest newspaper, ran "Iran's Day" as its front-page headline Tuesday and even the hardline Kayhan newspaper struck a positive tone.
Mythical Archer
The reformist Ghanoun newspaper focused on Iran's lead nuclear negotiator, Foreign Minister Mohammad Javad Zarif, depicting him as a mythical Persian archer with a red bandana and holding a bow and arrow at the talks.
"We have been waiting for it for so long," said Amir Tehrani, a 34-year-old English teacher. "I just hope that the pressure on our lives and on the cost of living will be reduced."
Since taking office nearly two years ago, Rouhani has slowed inflation to about 15 percent from more than 40 percent when the effects of sanctions peaked under the previous government. The economy has started growing again.
Yet for most in Iran, where youth unemployment hovers around 25 percent, life remains tough and supported by government cash handouts. Electricity and water prices have surged, offsetting the subsidies.
"Happiness, that's all I can say," said Golbahar Hassanabadi, a 29-year-old artist living in the city of Karaj on the outskirts of Tehran. "These past few days I was very stressed that it wouldn't happen, and now I have so much hope."
Others, including Shahnaz Khonsari, an art gallery owner in Tehran, were more restrained.
"We can't expect this agreement to miraculously fix the messed-up economy, but hopefully it will be a step," Khonsari said. "It's going to take time until sanctions are removed, until the impact of the deal becomes clear, until goods can be imported and businesses reinvigorated. But it's fantastic news."
Read this next:
Before it's here, it's on the Bloomberg Terminal.
LEARN MORE