Fighting Surges in East Ukraine as Sides Trade Accusations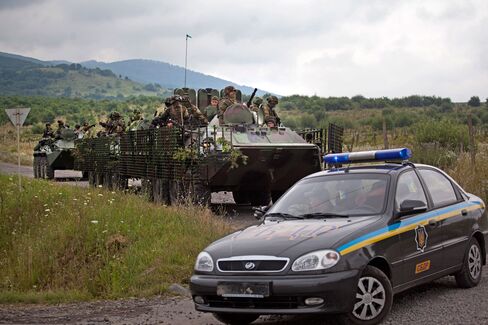 Pro-Russian rebels mounted one of the heaviest attacks on government troops since a February peace accord, Ukraine said, as the two sides blamed each other for a surge in fighting in the country's east.
Eight government soldiers were killed and 16 wounded over the last 24 hours, Ukrainian military spokesman Andriy Lysenko told reporters via video link on Wednesday. Two rebels died and four were wounded in the same period, the separatist-controlled DAN news service reported, citing Eduard Basurin, deputy commander of the Donetsk People's Republic.
"There's no sign that some massive military campaign has begun," Yuriy Yakymenko, an analyst at the Razumkov Center, said by phone from Kiev. "One day they fight, another day it's quiet, and then they attack again."
While the fighting in Ukraine between rebels and government forces has subsided since the truce was signed in Minsk, Belarus, the cease-fire remains fragile amid tensions over implementation of the agreements and accusations from both sides that the other is breaching deal. Ukraine is seeking to regain control of its industrial heartland from the rebels, who insist on constitutional reform that may grant them vast autonomy from the administration in Kiev.
The separatists' actions "mark another attempt by Russia and its puppets to completely ruin the Minsk agreements and renew active fighting," Oleksandr Turchynov, head of Ukraine's National Defense and Security Council, said in an e-mailed statement. Rebels attacked "in at least three important directions across the front line," he said.
Contact Group
The insurgents violated the truce 100 times in the past 24 hours, according to Lysenko. Ukrainian troops breached it 86 times, DAN said citing the Defense Ministry of the self-declared republic.
Five of the Ukrainian soldiers were killed when a mine exploded in the village of Bolotenne, northeast of the city of Luhansk, on Tuesday, according to the Interior Ministry.
A group including negotiators from Ukraine, Russia, the rebels, and the Organization for Security and Cooperation in Europe is set to meet July 21. The OSCE hopes to see "some concrete steps" toward deescalation and weapon pullback during the meeting, representative Martin Sajdik told reporters July 7 in Belarus. This week's fighting may be a bid by rebels to strengthen their position, said Anton Mikhnenko, Deputy Director of the Center for Army, Conversion and Disarmament Studies in Kiev.
"As soon as any type of political talks about Ukraine are planned, there is an outbreak of fighting," Mikhnenko said by phone. "This is a way of creating pressure."
At least 6,764 people have been killed in the 16-month conflict, according to the United Nations. The fighting has damaged Ukraine's economy and drained its reserves, forcing the government to seek debt relief from its foreign lenders to avert financial ruin.
Read this next:
Before it's here, it's on the Bloomberg Terminal.
LEARN MORE