Fed Concern on Social-Media, Biotech Stocks Is Half Right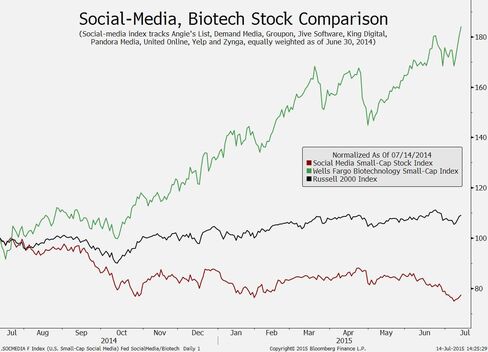 The Federal Reserve's caution at this time last year about the outlook for shares of smaller social-media and biotechnology companies turned out to be half right.
As the attached chart shows, the social-media stocks declined after the Fed called their valuation "substantially stretched" in a report to Congress. An equally weighted index of nine companies in the Solactive Social Media Index fell as much as 24 percent through yesterday.
The biotechnology shares surged, rather than dropping, after the central bank questioned whether they were too costly. The Wells Fargo Biotechnology Small-Cap Index, which the chart also displays, climbed 84 percent.
The jump in the Wells Fargo index surpassed a 50 percent gain in the Nasdaq Biotechnology Index, home to the industry's largest companies. The combined market value of $172.3 billion for the small-cap indicator's 170 companies was less than the value of Gilead Sciences Inc., the Nasdaq gauge's biggest component at $172.5 billion.
Losses for smaller social-media companies, by contrast, weren't mirrored by larger counterparts as a group. Facebook Inc. added 32 percent, lifting its market value to more than $250 billion just 38 months after the social network went public. LinkedIn Corp. rose 34 percent.
The Fed mentioned the industry groups in a semi-annual Monetary Policy Report. The next report is due to be released today, when Chair Janet Yellen begins two days of congressional testimony. She will appear before the House Financial Services Committee today and the Senate Banking Committee on Thursday.
(The sequence of Yellen's testimony was reversed in an earlier version.)
Before it's here, it's on the Bloomberg Terminal.
LEARN MORE