Father of Web Calls for Opening Up Clinical Research Data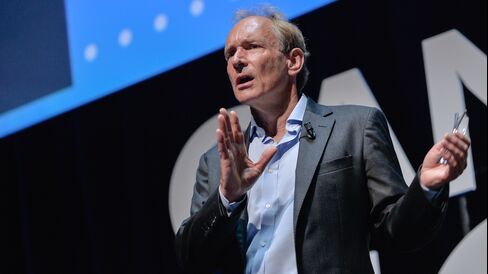 Tim Berners-Lee, the inventor of the World Wide Web, is leading the charge to keep data neutral, open and free.
"We may have a revolution where people are demanding their data back," Berners-Lee said at Bloomberg's offices in London. "Consumers of the world need to make it very clear that they want control, they want access to their data, they want access to open government data."
Some 25 years after Berners-Lee defined the Web's key languages in HTTP and HTML, he is calling for a written bill of online rights respected by governments and companies. Consumers should be able to claim their information from the centralized cloud, he said in an interview. There should be free access to sites, freedom of expression and sharing of information, such as that on health, he said.
"Clinical data should be available to research by default," Berners-Lee said. "It's such a valuable thing, the medical community could do such valuable things with it."
Berners-Lee's comments follow those by Google Inc. co-founder Sergey Brin, who started to create a database of genetic information after discovering that he carries a gene that makes him susceptible to Parkinson's disease.
"Nothing should be censored by the Internet itself, unless it's something that's internationally considered illegal," Berners-Lee said. "It's easier to run a business in a country where there is open data."
Read this next:
Before it's here, it's on the Bloomberg Terminal.
LEARN MORE