Dollar Gains to 3-Month High as Yellen Signals Rate Rise Likely
The dollar rose to a three-month high after Federal Reserve Chair Janet Yellen said the U.S. is on track to raise interest rates this year, while emphasizing that the pace of increases will be gradual.
The U.S. currency gained against most of its major peers as Yellen testified to Congress Wednesday. The greenback surged to a six-year high against the Canadian dollar after the Bank of Canada cut its benchmark interest rate for a second time this year as the damage from lower oil prices shrank the nation's economy in the first half.
"We continue to position for dollar strength," Roger Bayston, senior vice president and director of fixed income at the Franklin Templeton fixed-income group in San Mateo, California, said by phone. "You're going to see the dollar rally" whenever Yellen and other Fed officials reiterate the likelihood of a 2015 rate hike, he said.
The Bloomberg Dollar Spot Index, which tracks the U.S. currency against 10 of its major peers, added 0.5 percent to 1,200.76 as of 5 p.m. in New York, the highest level since April 13. The Canadian loonie fell as much as 1.8 percent to C$1.2958 per U.S. dollar.
"If the economy evolves as we expect, economic conditions likely would make it appropriate at some point this year to raise the federal funds rate target," Yellen said in testimony Wednesday before the House Financial Services Committee in Washington. She said Fed officials expect growth to strengthen this year and the unemployment rate to decline gradually.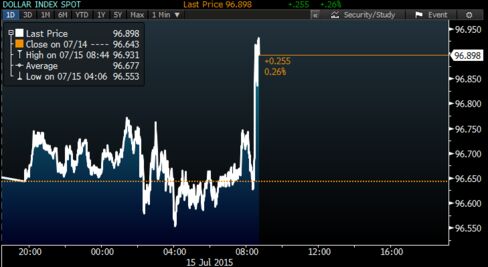 Diminishing Headwinds
"This is all moderately dollar-positive," Greg Peters, a senior investment officer at Prudential Financial Inc.'s fixed-income unit in Newark, New Jersey, said by e-mail.
Fed funds futures show a 33 percent chance the central bank will increase its benchmark rate in September from virtually zero, compared with 31 percent on Tuesday, and a 65 percent chance by December, down from 66 percent Tuesday, according to data compiled by Bloomberg.
The central bank has kept its benchmark, the target for overnight loans between banks, in a range of zero to 0.25 percent since December 2008 to support the economy. It last raised the rate in 2006.
"Some of the headwinds restraining economic growth, including the effects of dollar appreciation on net exports and the effect of lower oil prices on capital spending, should diminish over time," Yellen said in her remarks.
New Zealand's dollar declined to a five-year low against its U.S. counterpart after data showed milk prices slumped almost 11 percent in a global auction. The kiwi dropped as much as 2 percent to 65.83 U.S. cents.
The U.S. dollar has risen 3.4 percent in the past month, making it the best performer among 10 developed-nation peers, according to Bloomberg Correlation-Weighted Currency Indexes.

Read this next:
Before it's here, it's on the Bloomberg Terminal.
LEARN MORE