Daewoo Ship Drops Record 30%, Hits New Limits in Korea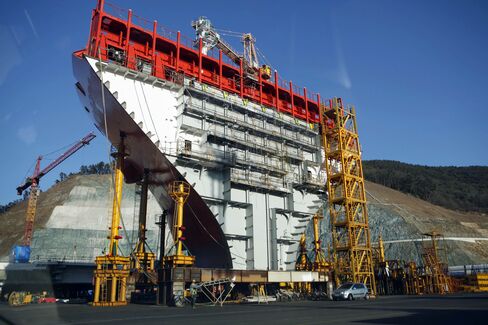 Daewoo Shipbuilding & Marine Engineering Co. became the first major company in South Korea to plunge by 30 percent after the country doubled the daily limits on stock fluctuations last month.
The world's second-largest shipbuilder tumbled by a record to 8,750 won Wednesday and closed at its lowest level in more than 12 years in Seoul trading amid concerns that it may report losses and could need to restructure its debt.
Starting June 15, Korea Exchange doubled the maximum shares could rise or fall a day from 15 percent, seeking to boost the appeal of the $1-trillion-plus stock market as trading volumes fell. While smaller companies have dropped by the new limit, no member of the Kospi 200 Index has done so.
Last month, Samyang Holdings Corp. became the first major company to rise by the expanded limit.
Daewoo Ship, the worst performer on the MSCI Asia Pacific Index Wednesday, has declined 53 percent this year, compared to an 8.2 percent rise in Korea's benchmark Kospi index.
Daewoo Ship had the dubious honor after Yonhap Infomax reported Wednesday that the company might seek to restructure its mounting debt. The company has been considering selling money-losing units that aren't involved in the shipbuilding business, such as a subsidiary that makes wind turbines.
'Painful Year'
"This year is going to be a painful year for Daewoo Ship," said Park Moo Hyun, an analyst at Hana Daetoo Securities Co. in Seoul. "Earnings are probably going to be bad for the second and third quarters."
Korea Exchange requested Daewoo Ship to clarify the media report on possible debt restructuring by 6 p.m. Wednesday. The company declined a request for comment.
Daewoo Ship Chief Executive Officer Jung Sung Leep said last month that the company's earnings won't be good this year.
Daewoo Ship posted a loss of 138.7 billion won ($122 million) in the first quarter, excluding minority shareholdings, compared with a 75.9 billion won profit a year ago, because of costs arising from delays in building rigs for Songa Offshore SE. The company may report an operating loss as large as 3 trillion won in the second quarter, according to Infomax.
The company has been burning through funds, with available cash falling to 87.9 billion won in the first quarter of 2015 from 238 billion won a year earlier.
The Chosun Ilbo newspaper reported Wednesday that Korea Development Bank, Daewoo Ship's largest shareholder, was considering selling several of the company's unprofitable affiliates.
Daewoo Ship won an order from Songa to build four rigs for the North Sea and Barents Sea. The first rig was delivered last month and two are expected to be handed over in the second half of this year, with the fourth to completed early next year.
(An earlier version of this story was corrected to change the name of a company in the second-last paragraph.)
Before it's here, it's on the Bloomberg Terminal.
LEARN MORE