Chinese Buyers of U.S. Golf Courses Tee Up Revival Plan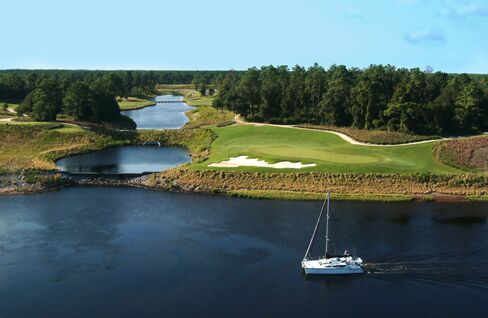 As Nick Dou bends down to inspect the 14th green at his revered Pine Lakes Country Club, with its antebellum-style clubhouse and Magnolia trees, a question hangs in the humid South Carolina air.
Can Chinese investors save American golf?
Pine Lakes, built in 1927, is the oldest course on the Grand Strand, a verdant coastal strip that includes Myrtle Beach and stretches 60 miles along the Atlantic Ocean. Like most golf meccas, the Grand Strand is struggling to recover from the boom and bust that has cut the value of most of its courses in half. Owners were buried in a debt trap with no way out until Yiqian Funding, a Chinese peer-to-peer lender, swooped in and paid cash for 22 courses from September through April.
"It's a big change for the golf business," said Dou, president of Founders Group International, which manages the 22 courses. "Maybe we are crazy. Maybe we bought too many courses. But I think the market is at the bottom and will come back."
Yiqian Funding, the biggest course owner on the Strand, is diverging from the well-worn path of Chinese investors who have driven up property prices in major cities from Sydney to Vancouver. Dan Liu, chairman of Yiqian Funding, and his partner Dou are gambling on a smaller market and a novel strategy. As younger Americans shun a sport that Jack Nicklaus called too slow, too hard and too expensive, Liu and Dou plan to lure players and investors from China to their new condos and courses. They include the top-rated TPC Myrtle Beach and Grand Dunes Resort Club.
Seaside Resorts
Even as Myrtle Beach, once a haven for binging college students, upgrades its image with plush seaside resorts and a Ruth's Chris steak house, the prospect of thousands of Chinese flocking here seems farfetched. It takes at least 15 hours, plus one stop, to fly to Myrtle Beach from Shanghai.
"It's very difficult to get here," said Mike Buccerone, president of East Coast Golf Management, which operates six courses on the Strand. "You have to fly over a lot of places -- California and Las Vegas -- where the Chinese like to go. You have more opportunity for people coming from our own country than internationally. Why? You can drive here."
Liu, 38, a college dropout, software programmer and serial entrepreneur, brushes off the naysayers. "Never say never," said Liu, who speaks some English.
In only six years he turned Yiqian Funding in Nanjing into a firm with more than 6,000 employees and $1.2 billion in annual home and business loans. Now he plans to add as many as 1,000 branch offices to sell golf vacations and real estate in Myrtle Beach, Dou said.
Four-Star Golf
Yiqian Funding's marketing comes as China places restrictions on extravagances like golf. The government has closed unauthorized courses built during the real-estate boom and punished officials for using public funds to pay for their rounds as part of its anti-corruption campaign.
Dou said the government's moves may spur Chinese to travel to destinations like Myrtle Beach. The area boasts 48 layouts that earned at least four out of five stars from Golf Digest's places-to-play rating. It also helps that the U.S. extended Chinese travel visas to ten years in 2014.
"The Chinese golfer could help us turn around our industry from no growth to fast growth," said Brad Dean, president of the local Chamber of Commerce, who visited China to promote tourism to Myrtle Beach. It lured a record 17.2 million visitors last year.
Old Order
Liu and Dou overturned the old order in golf, paying about $105 million for almost a quarter of the Strand's 100 courses. The industry was built by families with deep roots in South Carolina who saw golf as a way to expand the tourism season to support their hotel and real-estate businesses.
Families like the Brittains and Burroughs turned a sleepy beach town of scruffy hotels and seafood buffets that opened on Memorial Day and closed after Labor Day into a major golf hub. During the construction frenzy from 1986 and 2005, driven by demand for condos that line fairways, the number of courses doubled. At the peak in 2000, golfers played about 4.2 million rounds a year on the Strand.
After the real estate crash, the two companies that created the industry from its infancy -- Myrtle Beach National Co. and Burroughs & Chapin Co. -- merged in 2012 to cope with the plunge in revenue from green fees. Burdened with debt, the combined company approached the Chinese investors to buy it after they had purchased their first course in 2014. This April, Yiqian Funding bought the owner of 12 courses and other golf assets for $38 million, retaining its executives to manage them.
Getting Out
Cecil Brandon, 85, a longtime Myrtle Beach National board member, said after five decades in the business it was time to get out.
"We had a lot of debt on our courses and there was no light at the end of the road, so it made sense to sell to the Chinese," said Brandon, who had hired Arnold Palmer to design three of the company's layouts. "We were working for the banks. It was no fun anymore. The Chinese will make a good return because they don't have debt."
Liu and Dou, who have been applauded in Myrtle Beach for providing an infusion of capital, are now threatening to break with the local way of doing business. Most owners belong to Myrtle Beach Golf Holiday, a marketing cooperative that collects $20,000 per course to advertise the Strand in Boston, Chicago, Philadelphia and New York through the Golf Channel, ESPN and other platforms.
More Golfers
With the number of rounds played on the Strand stuck at about 3.4 million a year since 2012, marketing is critical to attract more golfers, said Bill Golden, president of the cooperative. Dou said he's evaluating whether to continue working with the group and paying the $440,000 annual fee, a significant chunk of its budget.
"The organization would continue, but it would be smaller," said Golden. "They are not in the golf industry, they are not in our world. It will take them some time to understand what we do."
The Chinese investors didn't intend to own golf courses. Dou, a New Yorker who came to the city 25 years ago for graduate school, searched coast to coast for real estate deals before he and Liu settled on the Strand. Its medium-size population of 320,000, mild winters, coastal grandeur and abundance of land to expand appealed to them.
When the duo discovered they could buy a golf course for a few million dollars, about the same price as an apartment in Shanghai, they were sold.
"Price was most important, and location," said Liu. "It's beautiful."
Upgrading Courses
As Liu and Dou remodel clubhouses and plan course upgrades, they have started construction on about 80 homes. They purchased about 2,000 lots for houses and condos and sold 20 units to Chinese for between $200,000 and $300,000 each in June.
"Maybe the golf business isn't so good, but you can make money from the real estate," Dou said.
Jane Zheng, a broker at Keller Williams Realty who has helped Chinese buy retail property and housing in Myrtle Beach, said the market is slowly recovering. Home prices began to rise in 2013 but they haven't kept pace with Florida and Nevada, leaving room for growth.
"Myrtle Beach has a lot to offer but the Chinese don't know about this place," said Zheng, a former pharmaceutical research scientist from New Jersey. "Dan's group will do a good job to let Chinese know and appreciate it. They know how to sell in China."
Liu's bet on Myrtle Beach is about to grow. He is planning to develop an oceanfront hotel and is building a home at his World Tour Golf Club. He and his family are moving to Myrtle Beach in August.
Before it's here, it's on the Bloomberg Terminal.
LEARN MORE