China's Steel Slowdown Spreads as Korea's Posco Gets Shake-Up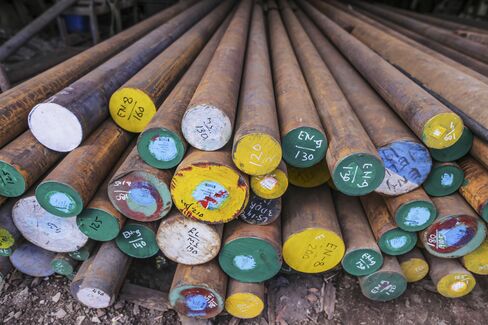 The impact of China's cooling steel industry is starting to spread.
South Korea's Posco, the world's fifth-biggest steel producer, plans to purge business units to try to counter the China-induced slump in global steel markets. The company reported a 61 percent drop in second-quarter profit.
Posco's shake-up shows how the world's steel producers are having to react to a contraction in China's demand after decades of unprecedented expansion. The speed of the slowdown is roiling global markets for the material as unneeded supplies from the world's biggest producer are exported across the world.
China's steel exports surged 28 percent in the first half of 2015 and may top 105 million metric tons this year, according to Bloomberg Intelligence. To put that in perspective, ArcelorMittal, the world's biggest producer and almost twice the size of its nearest rival, made 93.1 million tons of the material last year.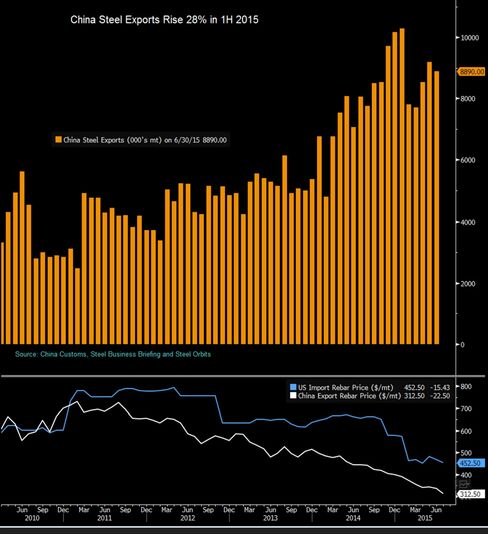 "China slowing down is not directly the issue; China's export rate is the issue as they haven't cut production," said Tim Huff, an analyst at RBC Capital Markets in London. "Chinese exports are the barometer for the health of the global steel industry. As soon as it goes over 5 million tons a month you have an issue, and it becomes an incredibly large issue when they're exporting 10 million tons per month."
Posco said Wednesday that it will reduce the number of domestic-market business units by 50 percent and those overseas by 30 percent. The company will "aggressively" leave non-core operations, Chief Executive Officer Kwon Oh Joon said at a briefing in Seoul on Wednesday.
State Intervention
Producers in the U.S. and Europe have lobbied for state intervention to curb imports. Steelmakers including U.S. Steel Corp. and Nucor Corp. have filed a trade complaint alleging that imports of corrosion-resistant metal from China are being sold at artificially low prices, while in May the European Union widened a competition probe opening up the prospect of tariffs on steel from China.
The Asian nation, which produces about half the world's steel, saw output fall 1.3 percent in the first half of 2015. Demand by the country will shrink this year and next in the first annual contractions since 1995, the World Steel Association said in April. Crude steel output will shrink as much as 2 percent this year, the first decrease since at least 1990, according to the China Iron & Steel Association.
Annual increases in crude-steel production have been emblematic of China's expansion for decades as supply jumped from about 70 million tons in 1991 to 823 million tons last year, according to data compiled by Bloomberg. Output probably peaked in 2014, according to the China Iron & Steel Association.
The price of Chinese hot-rolled coil, a benchmark product used from cars to washing machines, has fallen about 36 percent this year, according to Metal Bulletin data. A similar product has fallen about 25 percent in both the U.S and Europe.
Before it's here, it's on the Bloomberg Terminal.
LEARN MORE