Burberry to Review Hong Kong Store Network as Slump Deepens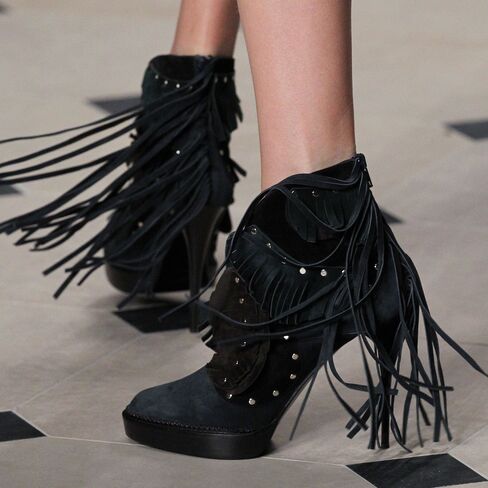 Luxury-goods maker Burberry Group Plc said it may try to lower its rent bill in Hong Kong to offset a worsening slump there that drove sales growth to a two-year low.
The company "may well take the opportunity if it persists to see what we can do in terms of negotiating different rents," Chief Financial Officer Carol Fairweather said on a conference call Wednesday.
First-quarter comparable sales in the island city declined by a double-digit percentage in the three months through June, London-based Burberry said. The drop was single-digits in the second half of the previous financial year. The stock fell as much as 3.7 percent.
Luxury-goods makers are reeling as fewer wealthy Chinese buy expensive coats and bags in Hong Kong amid a clampdown on graft and largesse in China, a situation that analysts at Nomura predict will continue for at least six months. Burberry responded by cutting trenchcoat and scarf prices there in April, as well as in China, following similar moves by peers. Prada SpA shares dropped to a three-year low June 15 when it reported first-quarter profit missed estimates due to Asian weakness.
"The threat of volatile international markets has become a reality," said Andrew Hall, an analyst at London-based market researcher Conlumino. "Changing consumer demand has led to a faltering of sales for Burberry."
Shares Decline
Burberry's total comparable sales climbed 6 percent, the weakest since the third quarter of 2013, though beating analyst estimates. The shares traded 1.9 percent lower at 1,589 pence as of 10:44 a.m. in London.
Total retail revenue advanced to 407 million pounds ($637 million), Burberry said. Analysts predicted 414 million pounds, according to the median of estimates compiled by Bloomberg. Burberry's 17 shops in Hong Kong remain profitable and there's no change in strategy in that market, Fairweather said.
Strong demand from travelers in France, Italy and Spain buoyed sales in Europe, the Middle East, India and Africa, while store visits improved in the Americas through the quarter after a soft start, Burberry also said.
Currencies will boost full-year profit by about 20 million pounds if they stay at current rates, the company said, raising a forecast from May by 10 million pounds. Still, the benefit will be offset by Hong Kong, according to the luxury-goods maker, which otherwise maintained its guidance.
Read this next:
Before it's here, it's on the Bloomberg Terminal.
LEARN MORE