Barclays's Michael Rake to Become WorldPay Chairman in September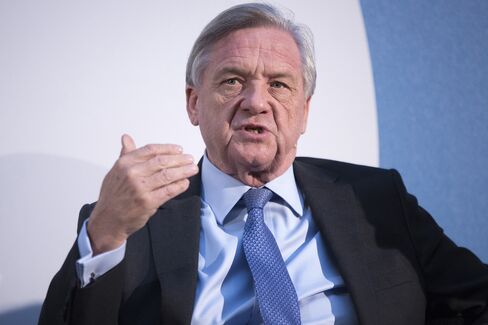 Barclays Plc Deputy Chairman Michael Rake, who helped oust former Chief Executive Officer Antony Jenkins last week, will become payment processor WorldPay Ltd.'s next chairman.
Rake will replace John Allan on Sept. 1, WorldPay said in a statement Wednesday. Rake, also the bank's senior independent director, will keep his position and stay on the board "until at least the end of 2015," according to a separate statement from Barclays.
Rake, 67, was instrumental in the ouster of Jenkins, who was fired after a clash with Tom King, head of Barclays's investment bank, over the depth of cuts to the securities unit, people familiar with the matter have said. WorldPay, which is owned by Advent International Corp. and Bain Capital, is preparing an initial public offering, Sky News said.
"The payments industry has never been more exciting," Rake said in the statement. "I've been very impressed by the WorldPay story so far."
Sky News reported Rake's hiring earlier. WorldPay's IPO may be worth 6 billion pounds ($9.4 billion), Sky said. The firm's owners may also decide to sell the payment processing group to other private-equity firms or a bank, according to the report.
Barclays Rally
"If and when he stands down from the Barclays board, a new senior independent director will of course have been appointed," Barclays said.
Shares of Barclays rose 0.4 percent to 277.1 pence at 1:32 p.m. in London. They've increased every day since Jenkins, 54, was fired a week ago, extending gains to 14 percent this year.
Chairman John McFarlane, 68, who took over as acting CEO, said Barclays became "cumbersome and bureaucratic" under Jenkins's leadership. McFarlane told staff last week that he plans to double the share price over the next three to four years, and may only appoint a new CEO early next year, according to the people familiar with the matter.
Rake, who is also chairman of BT Group Plc, joined Barclays in 2008 after a 30-year career at KPMG. He was named senior independent director in 2011 and deputy chairman a year later. He is also president of the Confederation of British Industry.
When he joins WorldPay, Rake will hold five directorships, more than the maximum of four allowed under European rules, meaning he will have to apply to Bank of England regulators for a waiver, according to a person familiar with Rake's plans.
The search for Rake's replacement as Barclays deputy chairman and senior independent director will start soon and internal and external candidates will be considered, the person said.
Read this next:
Before it's here, it's on the Bloomberg Terminal.
LEARN MORE