ASML Revenue May Beat Estimates on Chip-Equipment Demand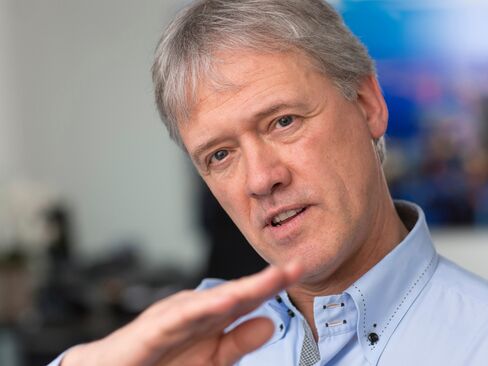 ASML Holding NV, Europe's largest semiconductor-equipment maker, forecast sales that may exceed analysts' estimates, easing investor concerns about a technology that allows smaller chips to be produced faster.
Third-quarter revenue will be as much as 1.6 billion euros ($1.8 billion), the Veldhoven, Netherlands-based company said Wednesday. Analysts had predicted 1.51 billion euros. ASML Chief Executive Officer Peter Wennink said there is "some upside potential" to the company's projection. In the third quarter of last year, ASML reported 1.3 billion euros in sales.
Wennink's comments signal a big sales increase from the second half of 2014, said Jos Versteeg, an analyst for Theodoor Gilissen Bankiers. Chipmakers are boosting equipment spending as demand for their technology in smartphones and wearable electronics rises. ASML, whose customers include Samsung Electronics Co. and Intel Corp., is trying to persuade clients to upgrade their machinery to extreme ultraviolet lithography systems, which enable the production of smaller chips while increasing the capacity and speed.
ASML shares rose 0.9 percent to 95.07 euros at 9:57 a.m. in Amsterdam. They had advanced 5.3 percent this year through Tuesday amid doubts over the speed of adoption of EUV by the company's customers. That compares with gains of more than 30 percent in each of the past three years.
Extreme Ultraviolet
The company received an order for six EUV machines in the second quarter, which is part of contract for 15 machines from one of the company's big U.S. customers announced in April.
ASML said it opened a new EUV factory in Veldhoven to meet the demand it expects from customers.
Applied Materials Inc., a U.S.-based maker of equipment used to manufacture semiconductors, earlier in the week predicted it can boost earnings and revenue over the next three years as it takes orders from competitors. Applied Materials is active in a different segment of the semiconductor-equipment industry than ASML, though its forecasts are used by the hardware industry as an indicator of future demand.
ASML reported second-quarter revenue of 1.65 billion euros, compared with the 1.61 billion euros estimated by analysts. Net income was 370 million euros.
Before it's here, it's on the Bloomberg Terminal.
LEARN MORE