Where Will Stuffed Animals Go With FAO Schwarz Closing?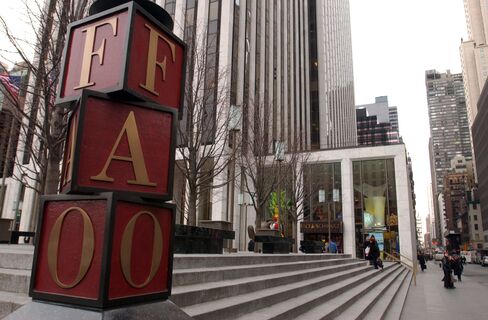 If Keren Hernandez could visit FAO Schwarz every day, she said she would.
Since her first shopping trip to the iconic toy store on Manhattan's Fifth Avenue a decade ago, the 21-year-old from Queens said she's returned many times for the larger-than-life stuffed animals and the toy soldiers stationed out front.
"I was sad to find out it was closing," Hernandez said during her final trip on Tuesday, with an 11-year-old and an 8-year-old in tow. "I wanted to make sure my little cousins could say 'I was there.'"
With its lease expiring and a much higher rent needed to keep the space, FAO's owner, Toys "R" Us Inc., opted to close the store. While it's looking for a new location and may re-open next year, Wednesday's shuttering means that the brand won't have a retail presence for the first time in 153 years.
The store, which moved to the location almost 30 years ago -- across from the Plaza Hotel, a block from Central Park and adjacent to the Apple Store -- grew in popularity after its appearance in the 1988 hit film "Big" when actors Tom Hanks and Robert Loggia danced on a giant toy piano spread across the floor.
On Tuesday afternoon, a sign in the front window told guests the store looks forward to greeting shoppers with the sound of "Chopsticks" on the "Big" piano at its new home, wherever that may be.
Tourist Attraction
The store's supporting role in the Hanks film made the Manhattan location a bona fide tourist attraction, but even then the chain's days were numbered. Increased competition from retailers such as Wal-Mart Stores Inc. pushed what was then a publicly traded company that also ran stores under the Zany Brainy and Right Start brands into bankruptcy in 2003.
At the time, FAO had 23 locations. Eventually all but the Las Vegas and Manhattan stores were closed, and those were sold to investment firm D.E. Shaw & Co. Shaw made renovations to the Manhattan location and expanded in 2008 by opening small shops in Macy's Inc. stores.
Less than a year later, in 2009, Toys "R" Us purchased FAO for its Manhattan store while closing the Las Vegas location and the Macy's boutiques.
FAO Schwarz got its start in 1862 and has moved several times since then, including a stop in Manhattan's Union Square. For a time, it was down the block on Fifth Avenue in a space now occupied by Bergdorf Goodman. It moved to its current location in 1986.
Times Square
There's hope that FAO will come back to Manhattan. Toys "R" Us is considering moving it into the below-ground space at 1633 Broadway, a 48-story skyscraper at Broadway and West 50th Street, just north of Times Square, according to a report by Crain's New York Business. The company has said it's looking for another midtown Manhattan location, but that it hasn't signed a lease.
The brand isn't going away. FAO-branded items will continue to be sold online and in Toys "R" Us stores.
Keren Hernandez and her cousins snapped one last photo on Tuesday with the toy soldiers that stand sentry in front of the store. They said a last goodbye and headed out, carrying a new stuffed animal and a bag of "FAO Schweetz."
Before it's here, it's on the Bloomberg Terminal.
LEARN MORE