What a Mystery Company Can Teach You About Stock Charts
Can you guess what company this is?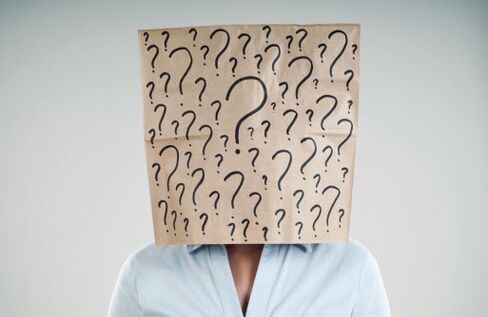 Let's play peekaboo.
Let's take a mystery company, one I call Amalgamated Cupertino, and run four quick charts.
What the pros know that is one of the great traps of investing is to look at a longer-term chart; try to make an analysis of a time frame in the middle of the chart; and then fail to block out the future price path. You have to play peekaboo. You put your hand up to the computer screen or down on the graph paper and block the future out with your hand. Always, in every case, the chart looks different.


Here are shares of our mystery company, Amalgamated Cupertino, at year-end 2008. In hindsight, we are all brilliant and would have loaded up the boat with the stock. At that moment, Amalgamated Cupertino was worried about its leader's health. Note the massive "double-top". Would you have acquired shares?


Here is a different set of emotions. The previous chart showed gains made and then lost. This epic trade suggests the bid walked away after about week one. After the 10-point recovery, could you acquire shares? I mean, Amalgamated is rolling over!


This is ugly peekaboo. The stock has been a total range-bound dog and has plunged as the chief executive officer is shown the proverbial door to the Land of The Chairmen. Note that, as compared to the previous charts, Amalgamated in 1993 was trading, based on 2015 valuations, at "penny stock" levels.

It should be no surprise by now that Amalgamated Cupertino is Apple Computer on its way to Apple Inc.
It is tough enough to game stocks in real time, let alone fall into the trap of analyzing long-term charts while knowing what the future brings. Do not do this. Play peekaboo to read the past better and clearer. (The above three moments were randomly selected around the final illness of Steve Jobs, plus one of Apple's recent and repeated product-fades and years ago, the exit of John Sculley, as seen here).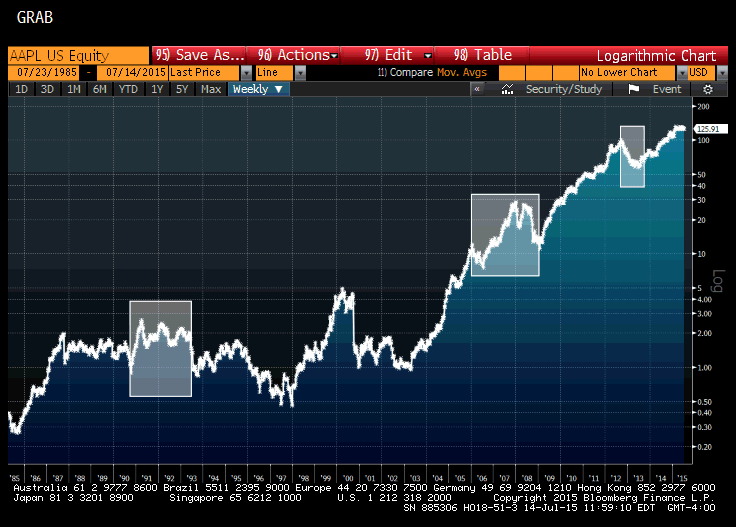 Apple has been dead money since February. Brian White, of Cantor Fitzgerald, sees Apple to $1,365 pre-7:1 split. That is $195, or up 55 percent from this fear-laden July. He suggests a $195 price target based on 17 times 2016 earnings and Apple's $25.65 cash per share. He believes the Apple Watch will be "the best selling new product in Apple's history (within the first 12 months)." Mr. White may or may not play peekaboo with Apple's chart.

Discuss. Peekaboo!
Before it's here, it's on the Bloomberg Terminal.
LEARN MORE