Toronto Is Oasis of Growth as Oil Clobbers Canada Economy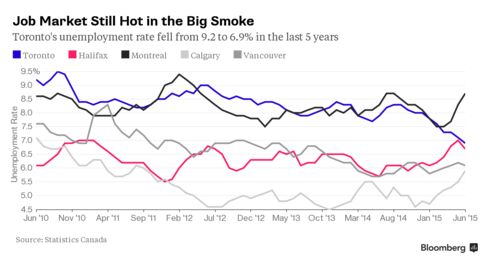 Toronto-based firms from Element Financial Corp. to Constellation Software Inc. are outperforming their Canadian peers this year as they dodge the oil slump that's dragging down the economy.
There's more to Toronto's success than its location far from the country's oil patch, according to the city's mayor. A steady surge of highly educated immigrants, the world's safest banking system and a technology renaissance are creating a diverse urban ecosystem that's insulating North America's fourth-largest city from crude's decline, John Tory said.
"It's partly our Canadian nature that has caused us to have 50 percent of the people living in the city who chose to come here from other countries," Tory, 61, said in an interview at his city hall office. "It's hugely important. I never leave out the diversity point because it's a huge attraction."
Companies with a market value above C$500 million ($392 million) based in Toronto have handed investors a 3.8 percent return this year compared with the 0.1 percent gain from firms based elsewhere in Canada, including Vancouver and Calgary, according to data compiled by Bloomberg.
Toronto companies' shares are expected to advance 26 percent in the next 12 months, in line with the gain for companies based outside the city, according to analysts surveyed by Bloomberg.
Among the biggest winners: Element Financial has surged 39 percent this year, the most among 46 companies on the Standard & Poor's/TSX Financial companies index after making its largest acquisition and hunting for more deals; Constellation Software jumped 52 percent as it continues acquiring software firms.
Bank Bedrock
The out performance is no surprise to Tory, who said the financial industry provides the bedrock for growth.
Five of the nation's largest banks are based in Toronto: Royal Bank of Canada, Toronto-Dominion Bank, Bank of Montreal, Canadian Imperial Bank of Commerce, and Bank of Nova Scotia. They've been rated the world's soundest for seven straight years by the World Economic Forum after they avoided major bail-outs during the global financial crisis.
"Economic stability has been our best friend in terms of people coming here and staying here," Tory said. "And it's been advantageous to us in terms of the financial services sector which is obviously hugely important to us. And it continues to grow."
After Ford
Tory was elected last year following four years of turmoil under former mayor Rob Ford, who admitted to smoking crack cocaine. Tory's platform was focused on improving infrastructure and boosting the economy, which drew on his years of work as an executive at Rogers Media, a unit of Rogers Communications Inc., Canada's largest wireless operator. He comes from a prominent family: his father was a director at Rogers and head of an investment firm, and his grandfather founded one of the country's largest law firms.
Toronto's real gross domestic product advanced 2.9 percent in 2014, the fastest in four years, and is forecast to expand 3.1 percent this year, tying with Halifax and Vancouver as the highest in the country, according to the Ottawa-based Conference Board of Canada.
"Smokin'," was how Robert Kavcic, senior economist at Bank of Montreal, described Toronto's job growth in a July 10 note to clients. The city added 95,000 jobs in the first six months of 2015, one of the strongest on record, according to Kavcic. The unemployment rate dropped to 6.9 percent in June from 7.9 percent a year ago, in line with the national average, according to Statistics Canada.
Population Swells
A rising technology industry is adding to the job growth. Toronto hosts offices of Amazon.com Inc., Twitter Inc., LinkedIn Corp., Facebook Inc. and Google Inc. while the telecommunications industry employs one in five people, according to the city.
Human capital is key, Tory said.
The city's population of 2.8 million people -- 5.5 million including the suburbs -- balloons with about 55,000 new immigrants each year, or one quarter of Canada's total annual influx. The city's diversity, with half its population born outside the country, and high education levels make it an appealing target for global companies to invest, he said.
"I've had a stream of people coming in here from significant global companies" to have "serious discussions about investing here," said Tory, whose office has a direct view of the entertainment stages set up to celebrate the Pan Am Games, the sporting event set to draw 250,000 spectators this month.
Those immigrants as well as young people drawn to the city's hip neighborhoods and restaurants are in turn filling the condominiums going up in the city and fueling further growth in a virtuous circle, said Tory.
Building Boom
Toronto has 97 residential towers under construction, the most of any city in North America, according to data compiled by Emporis GmbH. Multi-unit housing construction at the highest in almost three years drove overall home starts in June, the latest data show.
"The financial institutions are moving jobs back in now because that's where the talented young people are and the talented young people are living in all those condos you see being built down here," Tory said.
The building boom may be the city's Achilles heel if the economy slows significantly, pushing up unemployment and weighing on the financial sector as lending slows. The Bank of Canada will announce a decision on interest rates Wednesday with 16 of 29 economists forecasting Governor Stephen Poloz will cut the benchmark interest rate for a second time this year on the possibility the economy slipped into a recession in the first half of the year. Economists forecast growth of 1.5 percent this year, the slowest since 2009, according to estimates compiled by Bloomberg.
Consumer Debt
"There's no question the Canadian banks have performed well the last few years," Jim Shanahan, an analyst at Edward Jones & Co., said by phone. "The banks have grown a lot and employment has grown a lot, which has helped the city of Toronto. But that growth is slowing."
For now Toronto is riding the wave - creating jobs, attracting immigrants and withstanding the oil plunge. Borrowing a phrase used in Austin, Texas, Tory says the city might even be a little hip too.
"They have these shirts that say 'Keep Austin Weird' and that's their way of saying 'we think this is a cool place to live,'" Tory said. "I think Toronto is increasingly becoming seen as a cool place to live."
Before it's here, it's on the Bloomberg Terminal.
LEARN MORE